Jim Carrey And Jeff Daniels Flip Burgers With Fake Arms On 'Tonight Show'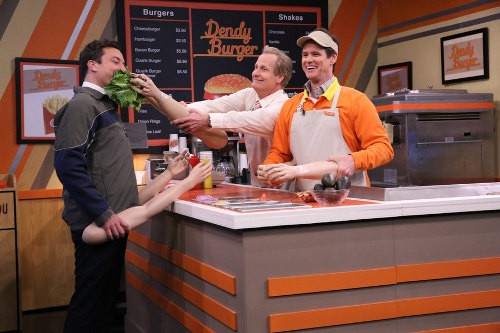 Jim Carrey and Jeff Daniels were on The Tonight Show Starring Jimmy Fallon last night to promote the trailer of their upcoming film Dumb and Dumber To, but they may have upstaged that with a skit involving fake arms.
The recurring skit has guests use mannequin arms instead of their own while they act out a soap opera. This time, Carrey is a trainee at a burger joint and Daniels is the manager. Fallon wants a burger and fries, something fairly difficult to prepare with mannequin arms!
Jim Carrey really shines in the skit, as it involves quite a bit of ad-libbing and reminds us of the unique energy he brought to 90s sketch show In Living Color. The height of the bit may be when he tries to convince Fallon that the lettuce was really marijuana.
The skit may have overshadowed the premiere of the trailer for Dumb and Dumber To on the very same show, but at least it proved the upcoming comedy is still in good hands.