Jewish Organization Outraged By Mel Gibson's New Biopic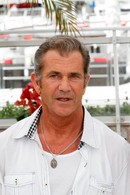 Officials at a Jewish rights group have petitioned studio bosses behind Mel Gibson's new biblical drama to remove the star from the project - because he doesn't have "respect and sensitivity for other people's religious views."

Gibson recently signed on to produce a film about celebrated Jewish warrior Judah Maccabee, who defeated the Greek-Syrian armies in the second century B.C. and inspired the Hanukkah celebration.

However, leaders of the Anti-Defamation League are seething at the prospect of Gibson making the movie - because just five years ago he was embroiled in a major scandal after allegedly hurling anti-Semitic remarks at a police officer as he was being arrested for drink driving.

And the civil rights group bosses have taken aim at Warner Bros. movie executives for allowing the Braveheart star to produce and perhaps direct such a meaningful film.

Releasing a statement to TMZ.com, the organization says, "As a hero of the Jewish people and a universal hero in the struggle for religious liberty, Judah Maccabee deserves better. It would be a travesty to have the story of the Maccabees told by one who has no respect and sensitivity for other people's religious views."