Jewel Pens Children's Music Book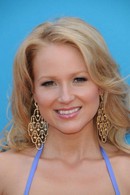 New mom Jewel has penned a children's book.

The Who Will Save Your Soul hit-maker took advantage of her down time after falling pregnant in 2010, and wrote her first novel for kids, titled That's What I'd Do.

The tome, which aims to teach children the magic of rhyming, is set to be released through publisher Simon & Schuster on September 18th.

The singer tells People.com, "I wanted to create a children's music book for quite a long time. (So) when I got pregnant, it was finally a great chance to get it written and really make it something that I hoped my son would like... "
"I'm really excited for moms to get to sit down and read this to their babies because it's really a devotion for lyrics. I hope all mothers get to feel that it's a love letter to their kid."

And the Grammy winner admits she already has one big fan - her eight-month-old son Kase.

Recalling the first time she read the story to the young tot, Jewel says, "He smiled."