Jessica White Ordered To Attend Anger Management Classes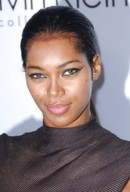 A New York judge has ordered supermodel Jessica White to enroll in anger management classes for her part in an argument over a cab last year.

The runway beauty, who has previously dated Sean Penn, was detained by police in October after she allegedly struck Vanessa Kian in the face and pulled her hair during a dispute over a taxi.

White twice turned down a plea deal over the misdemeanor assault and harassment charges, and on Wednesday, a Manhattan judge ruled that as long as she stays out of trouble for the next six months, the charges will be thrown out.

White's lawyer, David Smith, tells the New York Daily News, "Jessica has maintained her innocence from day one and that has not changed. This case will now correctly end in a complete dismissal. Jessica looks forward to moving forward with her career and charity without distraction."

White was told to pay a $490 fine, while she must also complete three days of community service and two days' anger management classes.