Jessica Simpson Shows Off Her Naked, Pregnant Body & Reveals The Sex Of Her Baby (It's A Girl!) In The April Issue Of ELLE Magazine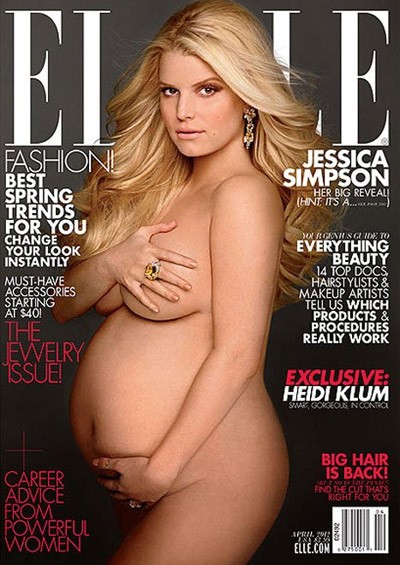 Jessica Simpson is sharing her pregnancy with the world in the April issue of ELLE magazine. The singer, whose new show Fashion Star premieres later this month, posed naked while holding her pregnant belly in a photo that's reminiscent of Demi Moore's iconic cover image from the August 1991 issue of Vanity Fair.

Jessica reveals the sex of her baby (it's a girl!) and discusses how she first learned she was expecting in the new issue, along with some high-hopes for her daughter as far as fashion sense goes.

"We were goin' to have an all-day drinking binge," she tells the magazine. "Gonna ride our bikes, hang out…do naughty things. But I started feeling this overwhelming guilt.

"Why would I feel guilt at the idea of going out and having cocktails with my friends?"

Jessica also hopes her daughter has a decent sense of style, however she feels that fiancee Eric Johnson's athletic lifestyle might throw a wrench into her upbringing.

"[I] swear, [I] will croak if she asks me for a pair of Nikes instead of Christian Louboutins!"

"Eric is so athletic. We're gonna have this [athletic] girl and I won't even be able to take her shopping," she adds.

Read the full interview in the April issue of Elle Magazine, on newsstands everywhere March 20; and see more pics from Jessica's photo shoot at ELLE.com.