Jessica Simpson Shows Off Her Drastic Weight Loss On Katie Couric's New Show; First WeightWatchers Ad Premieres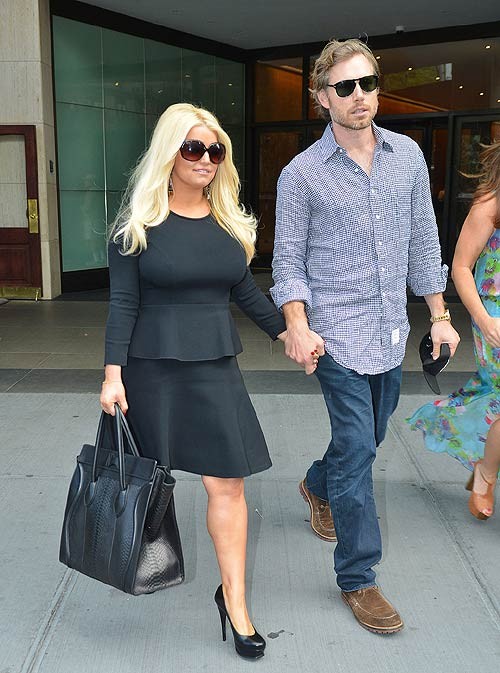 Jessica Simpson showed off her slimmer figure on Katie Couric's new talk show on Monday; revealing her dramatic 40 pound weight-loss since giving birth in May.

The Fashion Star judge, who wore a fitted black dress and patent leather pumps for her interview, recently said that she's struggled to lose all the weight, but setting small goals for herself have paid off.

"I've just had a lot of pressure on me to lose the baby weight," she tells Katie. "Today was actually one of my goals, getting here and just feeling comfortable in a beautiful dress, and I have to say I've achieved it, I feel beautiful today."


The 32-year-old singer/actress/fashion entrepreneur spoke about her deal with WeightWatchers and the upcoming season of Fashion Star, both of which helped motivate her to get back in shape.

"I set small goals for myself... I've lost weight every week, thank God, but I've worked really, really hard," she said. "I have to shoot a new season of my show Fashion Star, so I want to be in all the pretty dresses and the designer gowns. I'm 10 pounds away from that, so, by the time we're shooting, I'll actually be smaller, which is exciting."

Last week she told USA Today that she had som difficulty losing all the weight - especially because she couldn't go jogging to get rid of some of it.

"My boobs are way too big to run at this point. I'm just walking... We [Simpson and fiancee Eric Johnson] take (new baby) Maxwell out a lot."

Simpson shot her first commercial for WeightWatchers in August, and it debuted on TV Monday night (watch it below).