Jessica Simpson Reveals First Photo Of Baby Boy Ace Knute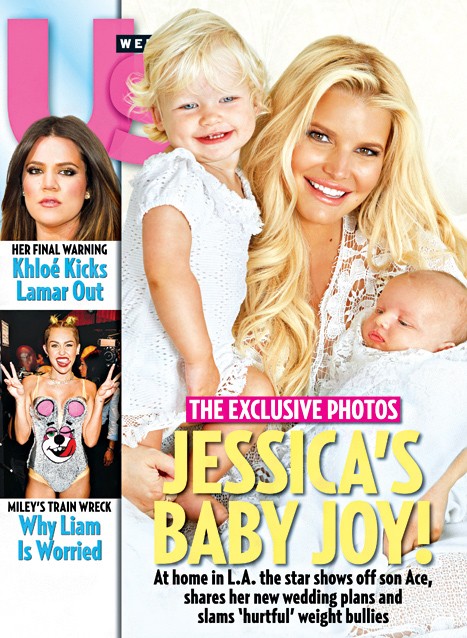 Jessica Simpson is finally showing off her baby boy. The singer/actress is featured on the cover of Us Weekly with her 15-month-old daughter Maxwell Drew and two-month-old son Ace Knut.
The blonde trio was photographed at Simpson's Hidden Hills home in California earlier this month.
Simpson and former NFL star Eric Johnson welcomed their son on June 30 via a planned C-section. The busy mom told the magazine, "With two kids, we have our hands full, but every day is a new adventure. It's fun! I feel very at peace with being a mom."
The star, 33, admits she hadn't planned on having two children so close together. She learned she was pregnant just six months after giving birth to her daughter.
"Pregnancy is a lot. It was hard to do two so close together," she admitted. "I have this huge sense of accomplishment, and I feel in my heart that I'm done. But obviously, accidents do happen!"
We can't wait to see what Simpson does next. Her TV series "Fashion Star" was recently canceled, and plans to create a sitcom loosely based on her life appear to have stalled. However, in 2010 her clothing and beauty ventures resulted in a staggering $750 million in sales. Her business empire includes shoe, handbag, denim, swimwear, maternity and fragrance lines.