Jessica Simpson On Weight-Loss Struggles: 'I'm Not A Supermodel'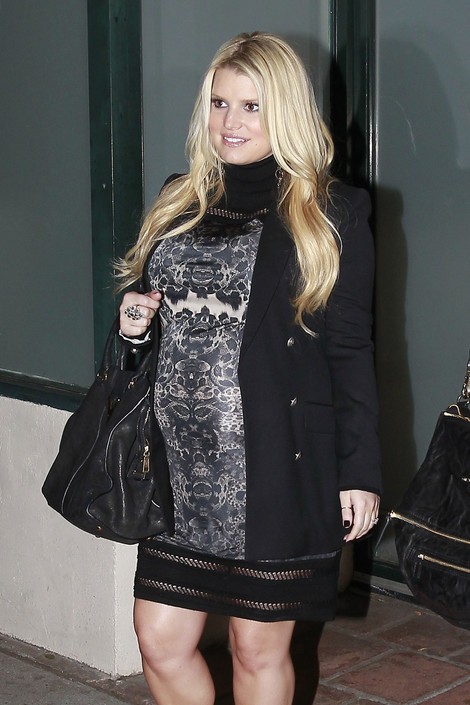 Weight Watchers spokesperson Jessica Simpson says she's struggling to lose all the extra weight she gained while she was pregnant.

The singer, who gave birth to daughter Maxwell in May, says that the size of her breasts has kept her from running and that she's had to resort to slow-paced walks.

"I let myself indulge in everything I wanted because it was the first time I was ever pregnant, and I wanted to enjoy it," she tells USA Today. "I wanted to be happy and eat what I wanted. I didn't realize [the weight] didn't all come off with the baby...

"I've lost weight every single week. (I'm) eating less of everything (but) I don't believe in completely depriving yourself... My boobs are way too big to run at this point. I'm just walking... We (Simpson and fiancee Eric Johnson) take Maxwell out a lot."

Jessica knows people constantly talk about her size, especially since having the baby; but it's not something she worries too much about.

"My weight has always been something that people like to comment on... Nobody wants to talk about their weight. For me, I have had to come to a place where I am comfortable with myself," she says.

"I'm a mom now, and get to be a role model for this beautiful little girl... I'm not a supermodel. My body is not bouncing back like a supermodel. I'm just your everyday woman who is trying to feel good and be healthy for her daughter, her fiance and herself."

We're guessing Weight Watchers might be a little concerned with Jessica's rate of losing those extra pounds though. She signed on as a spokesperson for the company last December for about $3-4 million and hasn't slimmed down much in the four months since the May 1 birth of baby Maxwell. According to the deal she needs to lose 50 pounds and is focusing on losing one pound a week.

"It's not easy, [but] she's working hard," a friend tells People magazine.