Jessica Simpson & Kim Kardashian Show Off Their Big Baby Bumps In LA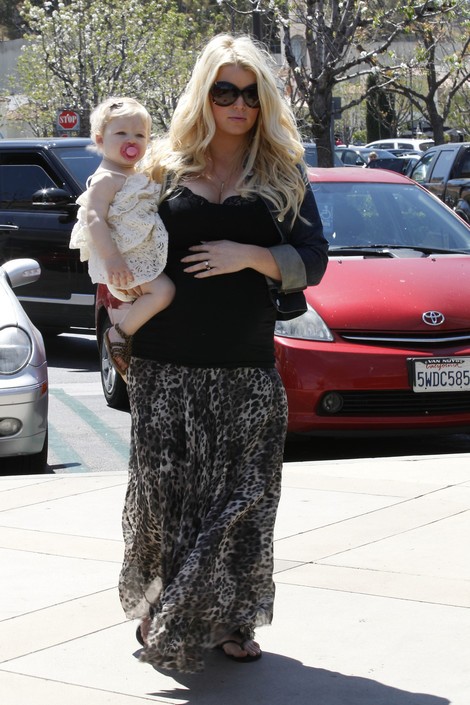 We spotted Jessica Simpson with her daughter Maxwell and fiance Eric Johnson going on a lunch date in Los Angeles over the weekend.
The singer/actress wore a long flowing animal-print skirt with a tight black blouse and denim jacket. While she is waiting to celebrate her daughter's first birthday next month she is also eagerly awaiting the birth of her son, who will purportedly be named Ace.
Simpson revealed her second pregnancy on Christmas Day, only seven months after the birth of her daughter.
A very pregnant Kim Kardashian was also out and about in Los Angeles on Saturday. She went to Cecconi's with sister Kourtney and wore high-waisted black pants with a matching low-cut blouse.
While the media has been taking digs at the reality star for her weight gain, several celebrities have come out in her defense, and she also seems to be accepting her new figure.
She recently told E! News: "Now that my belly has popped a little bit, you can really see it, and it's really, I think, a sexy thing."
Kardashian and her rapper boyfriend Kanye West are expecting their first child together in July. Simpson's new arrival is reportedly due in August.
Check out more photos of Jessica and Kim...