Jessica Simpson Introduces Daughter Maxwell Drew To The World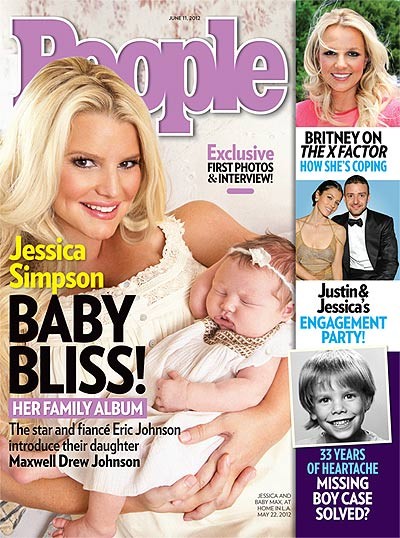 Jessica Simpson and her fiancé, Eric Johnson, introduce their newborn daughter Maxwell Drew with exclusive family photos in this week's issue of PEOPLE and open up about becoming first-time parents. "I'm learning so much about myself and how to be a mom. It's an amazing process, and I look forward to every day," Simpson, 31, tells PEOPLE. "She's my career at the moment. I know I was always meant to be a mom, and I think I'm doing a really good job. I'm the most aware I've ever been."

Luckily, Simpson says that her 3-week-old daughter "Maxi," or "Max," makes things easy. Since she gave birth on May 1, "my life has completely changed," the singer tells PEOPLE. Gone is any trace of vanity – "I'm less concerned about how my hair looks or if my gut is showing," she says – as well as any evidence of the old trademark ditziness. And while the baby inherited her mom's eyes and bottom lip, "she's very calm, much like Eric," says Simpson of her "super dad" fiancé, 32.

Because of the baby's size – 9 lbs. 13 oz. – Maxwell arrived by cesarean section two weeks early, causing one nurse to exclaim, "Whoa, she is a chunk!' Says Simpson, "There was a tarp up, but seeing everything happen through Eric's face was a moment I'll never forget. He was holding her hand and mine, so immediately we wanted that family bond. It was emotional."

For former NFL player Johnson, who Simpson says is "the quickest diaper changer," the attachment came before Maxwell was born. After an ultrasound revealed that the baby had long fingers, the daddy-to-be ran out to buy her an upright piano so that one day she could learn to play. And there was a present for Jessica, too. Just in time for Mother's Day, Johnson designed a diamond locket featuring Maxwell's birthstone, an emerald, and an insignia that represents the baby's nickname, Moonface. ("She came out looking like the moon," explains Simpson.) He also made matching necklaces for Simpson's sister, Ashlee, Maxwell's grandmothers, and her godmother, Simpson's best friend Cacee Cobb. "He has found his calling," says Simpson. "Maxwell's definitely going to be a daddy's girl!"

Following doctor's orders, Simpson has put off exercising until she fully recovers from her C-section, although, she admits with a laugh, "I've kind of broken one rule. I think I have the sexiest man in the world. So that's the rule I break." Once physical activity is officially allowed, she's anxious to get back to her pre-baby weight. "It would be nice to feel comfortable in a bikini, but that's not my goal," she says. "I just want to fit into jeans!" She has a big reason to feel motivated: Simpson "can't wait" to marry Johnson and wants "to feel really great in a wedding dress. It's going to be one of the most amazing weddings of all time," she promises, adding she'll carry Maxwell down the aisle. "I'd love to do it before the end of this year, but you just never know. I haven't set a date yet."

For now, Simpson is enjoying her new life at home, catching up on Grey's Anatomy – while Maxwell snoozes in a nearby Moses basket – and falling asleep to "Zen yoga music" with her fiancé. "Seeing Eric with Maxwell," she tells PEOPLE, "is everything I've ever dreamed of: a daughter and the man of my dreams. It's the most beautiful picture, and I'm in the best place."

*Also In This Week's 'People'*
Justin & Jessica's Engagement Party! "Jessica Looked Very Proud"
Britney On The X Factor: "She Was Definitely Enjoying It And Grew In Confidence"
Doctors Told John Mayer: "You Just Have To Live Like A Monk"
Angie Harmon: "Give Me A Pitcher Of Beer And Chicken Wings, And That's My Kind Of Party"


All this and more in the new issue of People Magazine, on newsstands everywhere now!