Jessica Simpson Flaunts Baby Bump In Bikini Twit Pic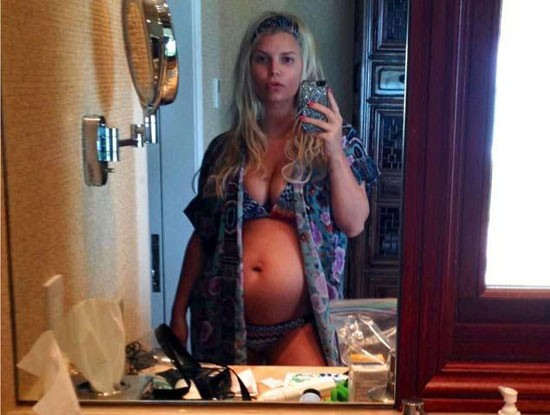 Jessica Simpson is putting on weight again - but this time it's for baby number two.
Less than one week after announcing she was expecting again, the singer/actress showed off her pregnant belly on Twitter. Wearing a bikini and long floral shirt she wrote, "Bumpin' and proud!" on Sunday.
On Christmas Day she confirmed weeks of speculation that she was pregnant by posting a photo of her seven-month-old daughter Maxwell sitting in the sand in Hawaii with the message "BIG SIS."  Awwwww!
Simpson is engaged to former 49ers football star Eric Johnson. News of her second child came only 7 months after the birth of her first child. It's been rumored she wants to get married before her baby is due, possibly in February or March.
Simpson is currently fronting a new diet campaign for Weight Watchers. But despite rumors to the contrary, the company seems pleased about her pregnancy. They tweeted on Christmas Day: "Your WW family is so thrilled for you. What an amazing year you've had!"