Jessica Lucas Of The New 'Melrose Place' Chats About Her Role, Divas, And Heather Locklear

Jessica Lucas
feels very comfortable playing her role as Riley Richmond on the CW's contemporary
Melrose Place
. Riley is a fresh faced 1st grade teacher who recently moved from Boston to LA with her fiancé Jonah and the couple is starting to have doubts in their relationship. Although Jessica does not have a fiancé she had to move from Canada when she was younger and plays a role close to her age. We got to sit and chat with Jessica and discuss the future of her role, Ashlee's lack of diva qualities, and the time she met
Heather Locklear
.
Matt Anaya: Hey Jessica, thank you for taking time out of your busy day to sit down with Starpulse.com.
Jessica Lucas: No problem at all.
What are you up to today, are you filming?
I am filming later today.
How would you describe your character Riley Richmond?
I think Riley is warm, caring, compassionate, very down to earth, innocent, naïve, new to LA, a little bit of a fish out of water, and she is dealing with living in an environment and surrounded by all these crazy people in the complex. She is madly in love and dating Jonah Miller and they are engaged and they are kind of navigating the waters of that. They are kind of getting pulled in every single direction and they're relationship is going to get tested very soon in the future.
You said she is new to LA, where is she originally from?
Boston, she went to NYU went Jonah and that is where they met. They spent five years together and they moved out to LA to pursue his career.
How familiar were you with the original Melrose Place?
I was not familiar with it, I had never seen until I booked it and after I booked it I watched three or four episodes to get an idea of it but the producers told me do not use it as a guide for the new show. Ours is much darker and that show was much more fluffy and light. The stories were kind of outrageous and soap opera-esque and our show is a little bit more grounded and realistic, I think.
Were pretty excited to land this role?
Yes, I was very excited! It is such an iconic franchise and the amount of attention and exposure for me personally has been amazing. It is every actresses dream, I think.
Why is Riley having second thoughts about her marriage right now?
I think it is a combination of things. Her age, she is only 24, and is worried she has not had enough experience to know whether Jonah is the one. I also think she sacrificed a lot to be with him, as far as moving to a city she does not want to be in. Their life sort of revolves around him trying to make it in his career (Jonah is a struggling filmmaker). I think she is sort of lost and has not really figured out who Riley is as an individual without Jonah. For the past five years this is what she has wanted and now it is maybe not what she wants.
Were you looking for this role or did you want another (on Melrose Place)?
I was approached to play her and she has been out of college for a year so I don't think it's that unrealistic. It was the role I wanted to play and I was very excited to land it.
Are you comfortable as Riley?
Yes, we are similar. I can relate with the whole moving to LA thing and feeling like you do not fit in. I think she has a lot of the same morals as I do. So yes, I am very comfortable playing her.
What does the future hold for Riley?
I see her possibly branching away from Jonah a little bit, maybe starting a different career path, and finding out who she is, exploring herself a little deeper. I think at the moment she is a little lost.
Does the cast get along together?
Yes, we have a blast. We hang out off set a lot. We goof around (laughing) a lot, so yes, we love each other.
Is there a rule about being good looking on the show?
(Laughing) No it is not a rule but yes, everyone is fairly attractive. You would have to ask casting about that.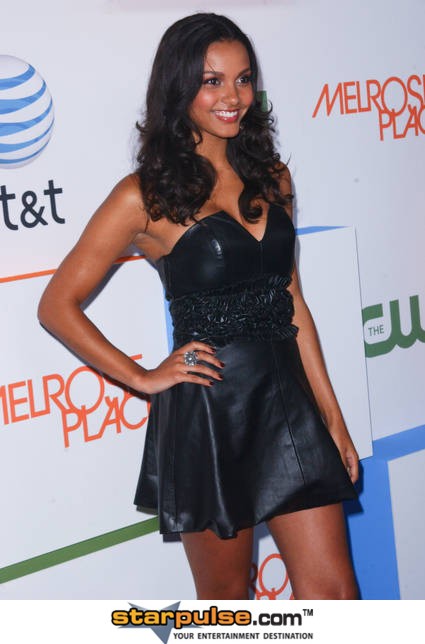 Image © Albert L. Ortega / PR Photos
Is Ashlee a Diva?
Oh yes, she is completely down to earth, so amazing, low maintenance, no issues, such a sweetheart, and a complete joy to work with.
Does she have a bigger dressing room than everyone else?
(Laughing) NO! Ashlee has no Diva qualities in her whatsoever.
Are you learning from any veterans on set or are there just a bunch of kids getting their feet wet?
It is a combination of both. I learn from everyone on the cast. We have fun playing off of each other.
Have you met Heather Locklear?
Yes I have met her. We have done a scene together and she has been really amazing. She was nervous to come on the show, which I thought was funny, since Melrose Place is about her. We were excited to have her and she was really excited to be back. She seemed really funny and cool.
Are you worried about the low ratings?
No, I try not to pay attention to them because they are something I cannot control. All I can do is do the work I am given and we are trying to make the best show we can and that is what our focus is.
Any off screen hookups we should know about?
(Laughing) No, none.
Who were your acting influences as a kid?
Kate Winslet
is one of my favorite actresses and if I can have a career anywhere close to hers I will consider my self a success.
Catch Jessica on 'Melrose Place' Tuesdays at 9/8c on the CW.
Story by
Matt Anaya
Starpulse contributing writer
Twitter.com/shmattshmanaya