Jessica Lowndes: 'I Have A Lingerie Addiction'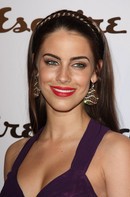 Actress Jessica Lowndes has a saucy secret - she boasts a huge lingerie collection.

The 90210 star loves buying sexy underwear and adds to her range whenever she can.

She tells Britain's FHM magazine, "I have a lingerie addiction... I have three drawers full of lingerie at home and I have already been lingerie shopping in London even though I should be going out and buying more practical clothes.

"I just can't help myself; it makes me feel pretty and sexy."