Jessica Chobot Talks Anchoring 'Nerdist News'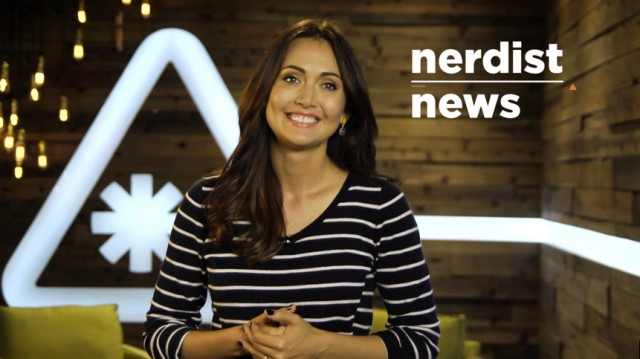 The ever-awesome Nerdist brand has spread out to The Nerdist Channel, a YouTube home for nerd-worthy video content. Case in point, Nerdist has recruited the fabulous Jessica Chobot to host Nerdist News, its five-times-a-week news show. Jessica recently joined BFTV to chat about the launch of Nerdist News and the many things that she nerds out about.
What does she believe sets TNC apart from the vast expanse of YouTube pop-culture channels? "Honestly, I think it's the personality and the quality of the video we're producing," she said, telling us, "A lot of the people on the team, they're all past G4 employees. It's an interesting mix because they've gotten their start in TV and production values in TV, and I as a host got my start in web with IGN. So now it's kind of a melding of that pot. It's like a perfect marriage. It's really awesome.
"On top of that, all the content that we do, we take with a pretty decent sized grain of salt," she added. "I feel like the fun we have in the studio really translates well into the videos. We try to have great interaction with our audience as well."
Nerdist News is a fairly recent addition to the channel, having launched in early November, but it's already making great strides. Asked which episode she'd point to as a sampler, Jessica told us, "I think the one where we really hit our groove, where we kind of found what works for us, was the Wonder Woman/Gal Gadot announcement episode. I might be a little biased just because I'm a massive Wonder Woman fan and it gave me the chance to dress up in a tiara and bracelets. But you can also tell we really dialed it in. We found our voice."
You can watch that episode below.
Well-known from her days at G4 and IGN, Jessica is far more than just an anchor. "I do a little bit of everything," she said. "For Nerdist specifically right now, we're definitely just focusing on Nerdist News and trying to make that as big as we can. And then I've thought about doing a podcast. I'm going to see if I can pull that into the mix. Although that'll be very interesting, because the content for the podcast will not be video games or pop-culture related. It's actually going to be something way out of left field that I don't think people will realize I'm into."
"I do a lot of hosting for e-sports for Microsoft lately, a lot of video game interviews for up and coming titles," she continued. "I have a game with Zombie Studios that I wrote, called Daylight. That's coming out relatively soon."
Being in this line of work comes with plenty of jealousy-inducing opportunities, so we asked Jessica to recount some of her most memorable happenings over the course of her career. "[The] coolest, I think, were my trips to Japan for Tokyo Game Show and just my travel overseas. We got to go to a ton of places that I never thought in a million years I would have a chance to visit. The travel was the coolest," she told us. "And then my 'Oh my God' moment, I got to meet Lynda Carter, and that is a huge deal because of being such a Wonder Woman fan from a very young age."
Of course, it's not all fun and games. There are also the occasional strange moments, too. "The weirdest thing that ever happened to me was, the very first time I went to Japan to meet with IGN, I found out they were going to be at Tokyo Game Show, so I paid for a trip myself. During the trip I ended up getting 'kind of kidnapped' by some stranger that tried to get me to follow him into the woods," Jessica said.
Then there's the Internet jerkdom that happened during her pregnancy. "Our viewers are for the most part in that teenage or young adult phase and it's very interesting," she reflected. "Everybody knew I had a baby coming [but] while I was pregnant, I had to deal with a lot of people calling me fat."
But the fact that Jessica has overcome the trolls and the crazy strangers makes her all the more remarkable as a pop-culture personality. Like her former G4 colleague Alison Haislip, she's a knowledgeable host and aficionado who just happens to be a beautiful woman. Her enviable career is proof that women can be just as kick-ass in the e-sports world as men, if not moreso. Certainly we'd all love to have written a video game. This is the kind of lady we want front and center on the Internet frontier, not just to keep us updated with the news, but also to remind us how much fun we can have.
You can watch Nerdist News five times a week on The Nerdist Channel (youtube.com/nerdist). For more on Jessica, you can follow her on Twitter (@Jessica_Chobot).
(c)2014 Brittany Frederick. Appears at Starpulse with permission. All rights reserved. No reproduction permitted. Visit my official website and follow me on Twitter at @tvbrittanyf.