Jessica Chastain Heats Up The January British GQ In A Sizzling Lingerie & Nude Photo Shoot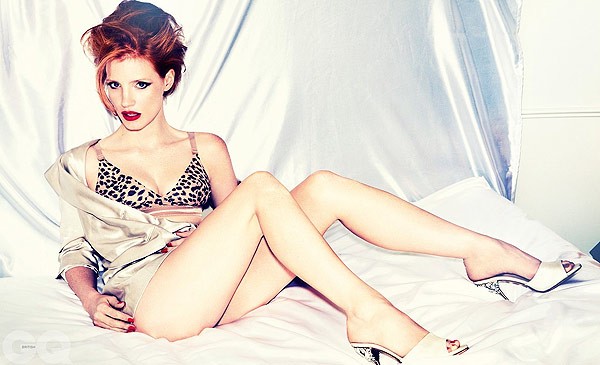 Jessica Chastain is sexier than we thought! The star of the upcoming Zero Dark Thirty, about the hunt for and killing of Osama bin Laden, wows in a new photo shoot for the British edition of GQ magazine.

The 35-year-old redhead sizzles in a new lingerie (and nude!) spread for the magazine and talks about her latest role, working with one of Hollywood's biggest stars and "gingers".

"This film will make news," she says of Zero Dark Thirty. "We all think we know how it ended. We don't. And this movie is about how it really ended. It is shocking. When I first read the script, I was blown away by this woman. The sacrifices she made and what she had to do. It's something I still get very emotional about. What happens when you live for this one goal? And then you achieve it."

The film, which is directed by Oscar-winner Kathryn Bigelow, who also helmed 2009 Best Picture winner The Hurt Locker, is set to open in limited release December 19 (so it's eligible for the Oscars) and then nationwide on Jan. 11, 2013.
But on a lighter note, Jessica does have a bone to pick with the British magazine...

"You Brits are usually so mean to your redheads," she says to GQ. "Why is that? In America it's seen as a good thing. Look at Julia Roberts – she's cool, right?

"I was working in Thailand and I'd be walking down the street and people – British people – would stop the car and scream, 'ginger!' at me."

And she's got nothing but praise for her The Tree of Life co-star Brad Pitt.

"He didn't have a huge entourage
, nothing like that. He just showed up on his motorcycle on the very first day and went, 'Hi, I'm Brad.' You just heard the rumbling of his bike and he'd appear like James Dean, or Marlon Brando from The Wild One. He was kind, he was generous, he'd never heard of me but he never made me feel less," she says.

Check out the rest of Jessica Chastain's interview and her smoking hot photo shoot in the January 2013 issue of British GQ and online at GQ-magazine.co.uk.