Jessica Chastain Gets Sexy In Black Lace For Marie Claire Magazine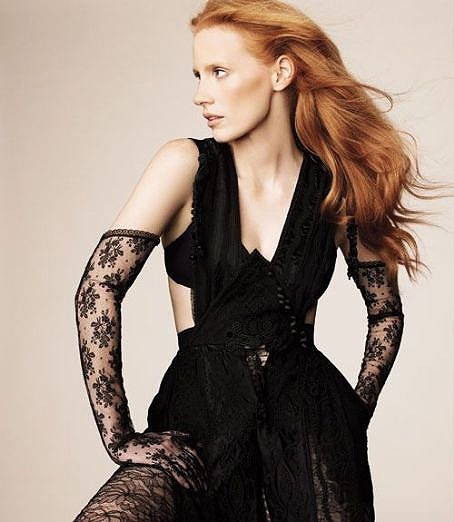 Sexy redhead Jessica Chastain is sheer elegance in the December issue of Marie Claire magazine, wearing several revealing lace ans semi-see through outfits for her shoot.

The Oscar-nominated star of last year's The Help is set to hit the big screen again in January, in the much anticipated Zero Dark Thirty; director Kathryn Bigelow's take on the killing of terrorist leader Osama bin Laden.

Jessica shared her thoughts and memories of attending famed acting school Julliard; how she copes with success and her new approach to dating.

"I never wanted to be a movie star," she says about achieving her dream. "I wanted to be an actor. I don't really drink, and I've never been to a rave. I used to cut school to read Shakespeare, not to make out in the park."

But the success hasn't changed her much.

"I used to have a lot of anxiety about how I was going to stay afloat, because as soon as I graduated, I never asked my parents for money. I always supported myself through acting and would make money last a long time. I understand the value of money, and I'm not an impulsive buyer. I bought a new laptop three years ago, and before I bought it, I spent a month thinking about buying it.

"So my lifestyle hasn't changed, except my anxiety about paying the rent is gone."

And she has some advice for any guys who may be interested: she's approachable.

"I'm very shy when it comes to guys," she explains.

"I like to be wooed, but I've had to be more outwardly available, I guess," she adds; noting that a friend told her that her recent successes means she'll have to change her ways and make it more obvious if she's interested in a guy.

See more of Jessica and read her full interview in the December issue of Marie Claire magazine, on newsstands now.