Jessica Biel Stopped Working Out For 'Easy Virtue'

Jessica Biel
often finds herself called upon to wear bikinis and underwear in her movies, and her fans know what great shape she keeps in. For her role in
Easy Virtue
, a 1920s Noel Coward comedy, Biel wanted to look more like a woman of that era.
"I actually just kind of stopped doing what I normally do," Biel said. "I didn't really have any time. Working out in London I found out was very difficult. It wasn't easy like in L.A. or New York where you can just walk to the gym and do your thing. I literally felt like I couldn't get my routine together. So I just kind of let it go and I think we spent so much time being so cold. I mean, we were literally freezing there working. It was so cold. We were wearing silk blouses and really thin slacks. I think that's what helped keep us all in shape after I found out what a crumpet was and had them everyday. They're good."
Perhaps she got all the workout she needed doing the film. In one scene, she performs a Can-Can dance which proved more strenuous than expected. "The Can-Can is so hard. That is a really aerobic dance. I mean it's just relentless. The knees are up to here and the abs, it's pretty serious. It was really fun though. That's one of my favorite scenes."
"Easy Virtue" is now playing in limited release.
See more photos of Jessica here!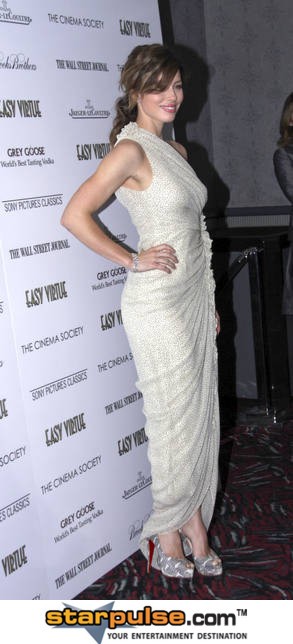 Image © PR Photos
Story/Interview by
Fred Topel
Starpulse contributing writer
(Starpulse in Hollywood)
: Every week, Hollywood's biggest stars are meeting in the hot spots and Starpulse is there.
Click here to follow @Starpulse on Twitter!