Jessica Biel: 'I Was Really Interested In Pits Full Of Snakes'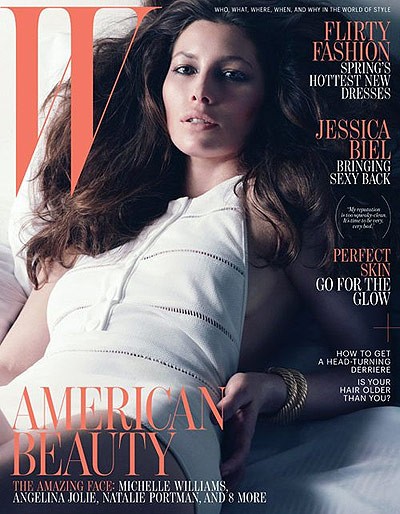 Jessica Biel steams up the April 2012 issue of W magazine and talks about "pits full of snakes", her apologetic teen years and filming all the action in her upcoming remake of Total Recall.

Jessica spoke with W's Lynn Hirschberg, who asked the newly engaged (to Justin Timberlake!) actress about the first move she ever saw.

"The Goonies. I never identified with girls, and the cast was all boys. Girls were nervous about going into caves; they were scaredy-cats - and I wasn't into that at all," she says. "I loved the idea of being with a crew and having an adventure.

"I was really interested in pits full of snakes."

Jessica also opens up about her teen years, more specifically about when she was starting to get a little rebellious despite filming family oriented show 7th Heaven. The show was Jessica's big break - her first job after three years of auditioning for various roles - and as she reached her late teens she started to rebel a little bit, which often landed her in hot water with 7th Heaven producer Aaron Spelling.

"I cut my hair super short and dyed it blonde. I had to apologize to Aaron Spelling for doing that. He wasn't happy. When I turned 17 or 18, a really obnoxious friend sent a stripper to the set. I had to apologize for that too," she says. "The show was all about family values, and they took that position seriously. I was always apologizing."

Jessica stars along side Colin Farrell and Bryan Cranston in the upcoming remake of the Arnold Schwarzenegger classic, Total Recall, and she also hinted at what fans can expect from one of her fight scenes in the film.

"[It was] "Fun — so fun! Our fight scene isn't overtly sexy: just two trained fighters who happen to be women kicking the sh*t out of each other," she says.

"It could be two dudes, but we just happened to have long hair and boobs and... other things [laughs]."