Jessica Alba's Sleek Black Gown With Crystal-Encrusted Collar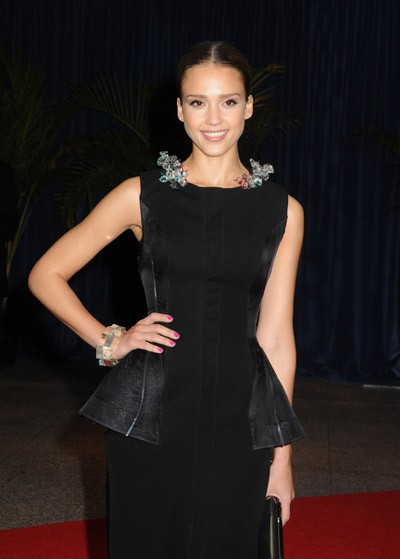 Jessica Alba attended the White House Correspondents Association Dinner in New York City on Saturday looking quite classy in a black Marios Schwab dress.  A gathering of Swarovski stones were embedded in the dress's neckline, and she carried a Jimmy choo clutch.
Although not as sexy as some outfits she has chosen in the past, we think this gown is more than appropriate for the occasion. What do you think?
The actress recently talked about how uncomfortable she is with paparazzi following her every move. She explained, "I think if you complain about it you seem like an a**hole. More of an a**hole than if you just go with it. It's not like you ever get used to it - it's like having sex with the camera in front of you - it's just awkward!" 
She will be starring in the upcoming film "An Invisible Sign of My Own" about a young girl who turns to mathematics as a means of dealing with a devastating family illness. Years later, she teaches the subject and does her best to help her students contend with their own personal crises. 
CHECK OUT MORE PHOTOS OF JESSICA HERE!