Jesse Ventura Sues Over 'Humiliating' Airport Search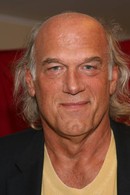 Wrestler-turned-politician Jesse Ventura is taking legal action against U.S. transport authorities after enduring a "humiliating" security search at an airport.

The former Minnesota Governor is suing officials at the Transportation Security Administration (TSA) and the Department of Homeland Security, alleging his rights were violated when he was patted down at an airport in November.

In his lawsuit, the Demolition Man star maintains he was subjected to "humiliation and degradation through unwanted touching, gripping and rubbing of the intimate areas of his body" during the search.

Ventura wants a Minnesota federal judge to order bosses to cease their 'warrantless and suspicionless' security measures and names Homeland Security Secretary Janet Napolitano and TSA Administrator John Pistole as defendants, according to GossipCop.com.