Jesse James Is Engaged To His 'Best Friend' Kat Von D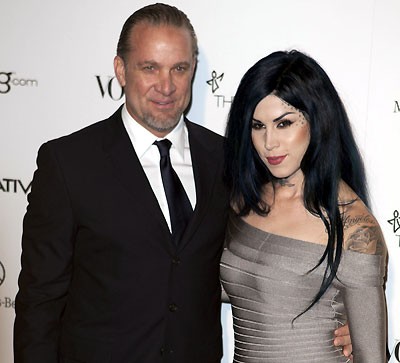 Sandra Bullock's ex has proved he's moved on - Jesse James popped the question to "L.A. Ink" star Kat Von D.

He told People, "You know sometimes the public and press gets it wrong. This is one of those times. 2010 was actually the best year of my life because I fell in love with my best friend. An amazing woman who stood behind me when the world turned their backs.
"I have never met anyone so kind and loving and committed to making the world a better place every day. My love for her is beyond description. So honored that she said 'yes.' Growing old with her is going to be a f----n' blast!"
The couple, which began dating in August, was alleged to have ended its relationship in October with Von D reportedly reuniting with her rocker ex Nikki Sixx.
Back in September Kat said, "Jesse is only my ninth boyfriend. I don't hang out with anybody unless I am in love." When asked if she believed James is the one for her, she said, "I believe he is, so yeah."
She also had to dispel rumors she was already pregnant with Jesse's child.
Meanwhile, Sandra recently dismissed reports she's dating her "Proposal" co-star Ryan Reynolds. She recently told the Today Show, "I think there will be a collective sigh (of relief) amongst women across the United States when I say he's not my lover. He's just an amazing friend for 10 years... but I don't get his loving after dark."
Click Here For More Kat Von D Pictures