Jesse James And Kat Von D Already Splitting Up?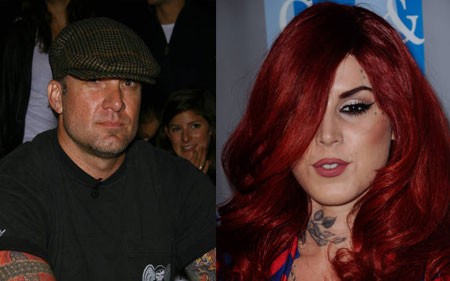 Just a month after Kat Von D said that Jesse James could be "the one," there are reports that the couple have split. A source told People that Kat is angry that Jesse is in Texas and isn't enjoying their "weekend fly-back-and-forth relationship."
Kat Von D has been spotted with a few other male friends, including ex-boyfriend Nikki Sixx and Bam Margera. However a source says she and Bam are "not more than friends. At the Jackass 3D premiere, the L.A. Ink star was getting friendly with Sixx once more. 
Back in September she said, "Jesse is only my ninth boyfriend. I don't hang out with anybody unless I am in love." When asked if she believed James is the one for her, she said, "I believe he is, so yeah." She also had to dispel rumors she was already pregnant with Jesse's child.