Jesse Harris Readies New Album 'Mineral'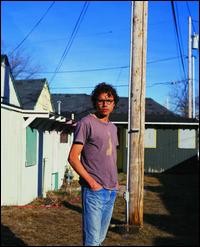 On February 21, 2006,
Jesse Harris
will release 'Mineral,' a strikingly elemental, intimate recording that heralds many firsts for the New York-based Grammy winner. Not only is it the debut release on his own independent label, Secret Sun Recordings, but after five albums with his beloved band The Ferdinandos, 'Mineral' marks Harris' first recording in a trio setting; backed by organ/piano master
Larry Goldings
(
John Scofield
,
Maceo Parker
,
James Taylor
), and long-time Harris collaborator
Kenny Wollesen
on drums, marimba and various percussion.
'Mineral' marks a stark departure from Harris' critically acclaimed 2004 release '
While The Music Lasts
,' an album replete with string and horn charts, guest artists, and auxiliary studio musicians. Instead, 'Mineral' realizes Harris' ambitions to achieve a warmer, more ambient feel, while stripping away all but the essential elements of his songs. The album contains virtually no electric guitar or bass, leaving room for each instrument - whether it be an accordion flourish by Goldings, or a Wollesen marimba line - to breathe texture and character into Harris' songs. In another first, the album includes two quietly carnivalesque instrumental interludes, also penned by Harris.
Like many great turning point albums, 'Mineral' was inspired by a gig; a 2004 benefit concert for Sweet Relief at the Troubdour in Los Angeles, to be exact. Harris picks up the story, "Kenny and I flew out for the gig, but none of the other guys in [The Ferdinandos] were available. Larry Goldings used to be my next door neighbor in New York, and I thought it would be fun to play as an organ trio." The chemistry between the three was immediate, and soon after Harris, Goldings and Wollesen were ensconced in a Nassau, Bahamas studio with board wizard Terry Manning (
Led Zeppelin
,
Big Star
,
Isaac Hayes
,
Lenny Kravitz
etc...) engineering and mixing. 'Mineral' is literally a musical snapshot: an album by a band that had - and has to this day - only played one gig together.
In addition to his own recent recordings and live performances, Jesse Harris has written songs recently for
Madeleine Peyroux
,
Lizz Wright
and
Tristan Prettyman
and contributed guitar to the
Bright Eyes
album '
I'm Wide Awake, It's Morning
.' He is also known for writing several songs on
Norah Jones
' landmark debut album '
Come Away With Me
,' including the hit single "Don't Know Why," for which he won a Grammy in 2003.