'Jersey Shore': Season Two Uncensored Comes To DVD Tuesday, Dec. 28

The stars of the hottest reality show on television are back and headed down south for more fist-pumping, more smushing and more battling grenades as MTV's smash hit, Jersey Shore Uncensored: Season Two makes its way to DVD on Tuesday, December 28.
Ring in the New Year with Snooki, The Situation, Pauly D, Vinny, Sammi, Ronnie, Angelina  and JWOWW in 13 UNCENSORED, outrageous and drama-filled episodes set against the backdrop of sizzling Miami Beach.  Loaded with sensational bonus features, this four-disc set gives fans intimate interviews with the cast, exclusive extended versions of some of the season's most explosive scenes, two "After Hours" special, the not-to-be-missed "Reunion Special" and a never-before-seen, exclusive sneak peek at the upcoming new season in January 2011! A true pop culture phenomenon, Jersey Shore achieved record ratings during its sophomore season, consistently beating all television competition in its time slot and becoming the #1 original cable series among P12-34 in 2010 and MTV's highest rated series ever.  The show surged to series highs of over 6.7 million viewers, more than doubling the audience for Season One.  The Jersey Shore Uncensored: Season Two DVD has a suggested retail price of $26.99 U.S./$32.99 Canada.
A Jersey Shore Uncensored: Season One and Jersey Shore Uncensored: Season Two two-pack will also be available on DVD beginning December 28 for six weeks only.  Relive the drama from the very beginning for the low price of just $36.99 U.S./$39.99 Canada. 
Fans can also log on to shop at jerseyshoregear.com, the official online store for Jersey Shore products, to pick up exclusive apparel and accessories.  The excitement will continue when an all new season of  Jersey Shore premieres on Thursday, January 6 at 10pm ET/PT.
Synopsis:
The eight housemates of Jersey Shore are back for another season of GTL, fist pumping, and battling grenades.  But this time the party has moved south to Miami Beach. The area code may have changed, but the drama remains the same.  The Situation, Vinny and Pauly D give MVP a whole new meaning; Snooki continues her search for the perfect gorilla juicehead while JWOWW tries to keep her out of trouble; Sammi and Ronnie pick up right where they left off; and Angelina can't help but stir things up. MVP will be creepin', Ron Ron juice will be flowin', and Snooki will be Snookin' on Season Two of Jersey Shore.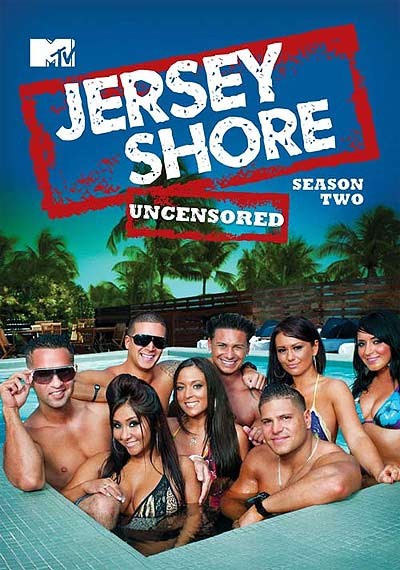 We're giving away four copies of this DVD set - click here to enter!

DVD SPECIAL FEATURES:
Reunion Special
After Hours
Cast Interviews
GTL: Miami
Extended Scenes
New Season Sneak Peek
Click for more great Jersey Shore pictures: