'Jersey Boys' Great Music Barely Saves Clint Eastwood's Latest Film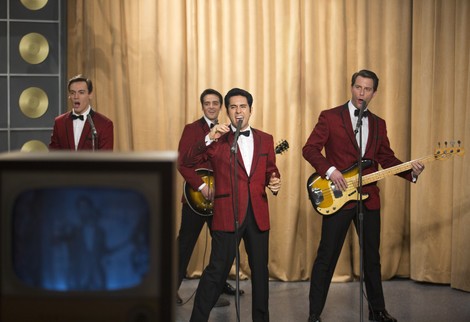 Music is one of the most powerful forms of entertainment. A person can be in the worst mood when a certain song comes on the radio and instantly, the bad mood is gone. You're transported to another place - I think music elevates the moments of our lives.

Having seen the Tony Award winning musical 'Jersey Boys' on Broadway and in L. A., I was really looking forward to the film, directed by Clint Eastwood.

It's amazing the Clint Eastwood is still directing and acting at the age of 83, bravo for that.  But Clint Eastwood directing a musical - I don't think that's exactly his thing because Jersey Boys' just doesn't work. The music is great, it's the in-between parts that I had trouble with.

'Jersey Boys' is the story of Frankie Valli (John Lloyd Young) and The Four Seasons - if you're not familiar with these guys, Google them.

Frankie, born Frankie Castelluccio, was from Belleville New Jersey.  In the 50's he worked as a trainee in a barber shop.  Frankie's neighborhood was filled with low level criminals, as well as a mob boss or two - one of them being Gyp DeCarlo (Christopher Walken), who took a very special interest in the young singer.

This was a time, when street corners were filled with guys harmonizing and Frankie's neighborhood was no different.  It's here that Valli, along with his best friend, guitarist/thief, Tommy DeVito (Vincent Piazza) and bass player/thief Nick Massi (Michael Lomenda) formed a band.  In between petty heists and jail time, the Jersey trio played anywhere that would have them, without much success.

That all changed when a local wannabe talent scout named...are you ready?...JOEY PESCI aka Joe Pesci (Joseph Russo) introduced them to singer/songwriter, Bob Gaudio (Erich Bergen).  

The trio became a quartet and with the guidance of the brilliant producer/lyricist, Bob Crewe (Mike Doyle) The Four Seasons were born and the rest is history...an amazing history.
But unfortunately what's up on the screen is anything but amazing.
It takes 45 minutes before there's any music at all.  What we have instead are trips to jail, squabbles, hookups with ladies, and the four lead characters breaking the fourth wall. They talk directly into the camera, a technique I find really annoying and one that rarely works.
I don't mean to say it's all bad, once the music kicks in it's magic.  To see the creative process behind many of The Four Seasons hits, including 'Sherry Baby,' 'Walk Like A Man,' Rag Doll' and Valli's biggest hit, 'Can't Take My Eyes Off Of You,'  is the part of the film that really worked - as did the recreation of their appearances on American Bandstand and The Ed Sullivan Show.
But all the good parts don't save the film. Characters appear in the first quarter of the film, including Valli's wife, Mary (Renee Marino) and then disappear for long periods of time.  Plus certain scenes, including one with Valli's teenage daughter, comes out of nowhere.
For those reasons, I gave 'Jersey Boys' which opens in theatres, Friday June 20, 2014, only 3 bagels out of 5.
Check out our Two Jews On Film video to see my guest and for more of my thoughts.
Please SUBSCRIBE to our channel on YouTube and LIKE us on our Two Jews on Film Facebook page. Thanks everyone and I'd love to know what you think about 'Jersey Boys' if you decide to see it.