Jerry Springer's Security Guard To Host Talk Show Next Fall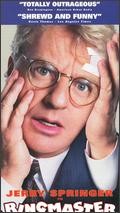 NBC is bringing out a new nationally syndicated series starring
Steve Wilkos
, the popular icon from "The
Jerry Springer
Show." Wilkos, the highly recognizable former Chicago police officer turned Springer security guard, will now be front and center on his own show, offering advice and doling out his version of justice in his own daily, one-hour syndicated show.
"It's truly incredible that I first came to work part-time with Jerry and Richard some 14 years ago and here I am now getting my own show," says the 6-foot-3 Wilkos. "I believe my Marine training of what is right and what is wrong and the street smarts I picked up as a police officer, will assist me in helping my guests get through the hard times they face each day."
The yet-to-be titled show will be set in front of a live studio audience and taped at WMAQ-TV Chicago, the home of "The Jerry Springer Show" for the last 16 years. Richard Dominick, who is also executive producer of "The Jerry Springer Show" and the upcoming "The Springer Hustle" on VH1, will serve as executive producer on Wilkos' show, as well.