Jerry Seinfeld And Larry David Teaming Up Again For 'Huge' New TV Project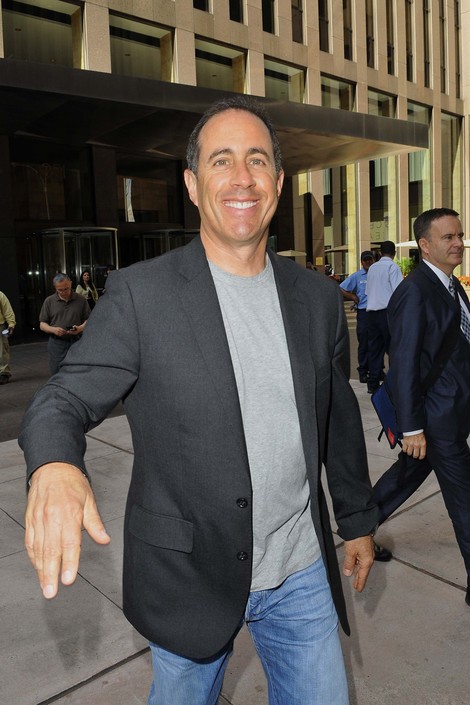 Jerry Seinfeld and Larry David have teamed up again for a new TV collaboration.

The comedian shared the news with fans during a Reddit AMA (Ask Me Anything) session, revealing that he and the "Seinfeld" co-creator have a new project in the works that he's calling "huge."

When asked what the most "mundane" project he and David "obsessed over" was, Jerry responded, "We never obsess over anything that isn't mundane. Most recent was intentional mumbling. We wrote this script for this thing that you will eventually see but I can't reveal what it is at this time.

"All I can do is tell you is that it's big, huge, gigantic."

"Seinfeld" ended after nine seasons in 1998, and since then fans have been yearning for another collaboration.

Jerry also revealed that in reality the show wasn't a "show about nothing," as his eponymous character and co-star Jason Alexander's George Costanza would go on to try and sell NBC in the classic season four episode "The Pitch."

"The pitch for the show, the real pitch, when Larry and I went to NBC in 1988, was we want to show how a comedian gets his material," he explains. "The show about nothing was just a joke in an episode many years later, and Larry and I to this day are surprised that it caught on as a way that people describe the show, because to us it's the opposite of that."

Seinfeld also shared the story of the first time he and David met and how they "couldn't stop talking."

"The first time I met [David], that's a long story...," he says. "I actually was eavesdropping on him talking to another comedian, and I wasn't even in comedy yet. But he was leaning on my car in front of the Improv on 9th Ave and 44th Street, and this would be probably 1975. That was the first time I ever saw him. But we didn't talk. But him and this other comedian were leaning on the fender of my car, and I knew that they were real comedians and I was still just flirting with it. So I don't know if that answers the question."

"Then when we finally did talk in the bar Catch a Rising Star on 1st Ave and 78th Street 2 or 3 years after that, we couldn't stop talking," he adds. "We were both obsessed with the smallest possible issue."

Seinfeld did the fan Q&A to promote the third season of his web series, "Comedians in Cars Getting Coffee," which airs on digital streaming network Crackle. David was his first guest when the show premiered on July 19, 2012.