Jerry O'Connell 'Got Stoned At Hippie Fair' While Making 'Stand By Me'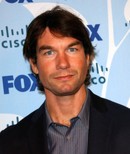 Actor Jerry O'Connell got so stoned on marijuana-laced cookies while making Stand by Me the production had to be shut down for two days.

The movie star was just 13 when he made the coming-of-age film with River Phoenix and Kiefer Sutherland and now one of his most embarrassing on-set moments has been revealed.

Appearing on Jimmy Kimmel Live! on Monday, Sutherland opened up about the incident revealing his young co-star's first encounter with drugs did not end well.

He explained, "We were shooting in Eugene, Oregon and they were having a hippie fair and I think he only saw 'fair' and 'carnival' and thought there would be rides.

"Apparently he managed to tie his babysitter up to the banister and snuck out for the evening and went to the fair and bought some cookies. They were not the appropriate cookies for a 13 year old on the run, and they found him crying in the park. He was lost and completely disorientated.

"We had to shut down for two days."