Jerry Garcia's Personal Belongings To Go Under The Hammer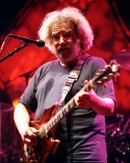 Grateful Dead star Jerry Garcia's belongings, instruments and handwritten set lists are to be put up for auction in California this spring.

Auction house Bonhams will sell off the hit-maker's personal effects as part of the Visions of Garcia event in San Francisco on May 8th.

The collection will feature Garcia's drums, amplifiers, sunglasses, artistic sketchbooks and even his 1983 Harley Davidson motorcycle.

Other hot ticket items include an acoustic Takamine guitar, valued at upwards of $100,000, and a landscape oil painting created by the icon, which is expected to fetch $150,000.

Garcia died of a heart attack in August, 1995.