Jerry Garcia Documentary In The Works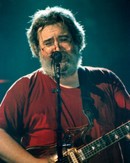 The Grateful Dead star Jerry Garcia is to be the subject of a new musical documentary.

Filmmaker Malcolm Leo and veteran manager John Hartmann have secured the music rights to the band's extensive catalogue and they are teaming up to shoot a feature-length film about the late rocker.

The project will center around a three-hour conversation Leo conducted with Garcia in 1987. It will also contain never-before-seen performances and rare home movies, according to Deadline.com.

The film, which is set for a spring release, will also feature a rare interview with Garcia's eldest daughter, Annabelle.

The icon passed away in August, 1995.