Jerry Bruckheimer Celebrates Walk Of Fame Honors With Johnny Depp, Tom Cruise And More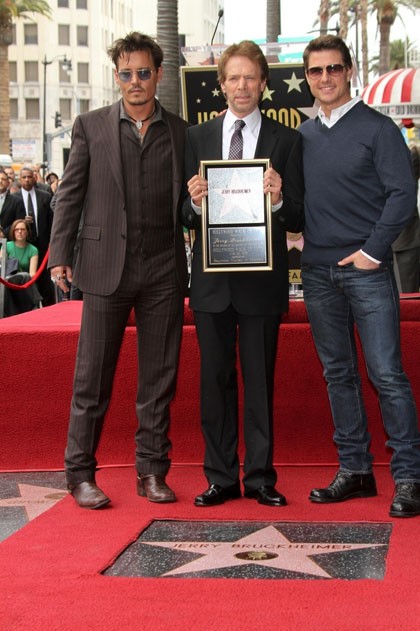 Film maker and TV producing legend Jerry Bruckheimer was surrounded by a multitude of celebrities as he received a star on the Hollywood Walk of Fame in Los Angeles Monday.
Stars and famous faces from his films were in attendance included Johnny Depp, Tom Cruise and Isla Fisher to name a few. All were in hand to support and celebrate with the film icon.
Jerry O'Connell, Marg Helgenberger, Jon Voight and Martin Lawrence attended the ceremony, as did the producer's wife Linda.
Depp made a speech in honor of the moviemaker, who he has collaborated with on the Pirates of the Caribbean franchise and this year's The Lone Ranger which opens in theatres July 3.
He declared, "Without Jerry, there would be no Pirates, there would be no (character) Captain Jack. Without Jerry, there would be no Lone Ranger, there would be no reinvigorated Tonto. So I have a lot to thank him for.
"The man is a legend to me, a legend to us all, hence this congregation to celebrate him for his long-deserved star on the Walk of Fame."
Bruckheimer called the star an "unbelievable honor" and joked, "I won't get too big-headed, though, because the list also includes Donald Duck, Mickey Mouse and the Three Stooges."
Check out a few pictures from the unveiling ceremony.