Jeremy Renner Tells DETAILS Acting Comes First, Women Second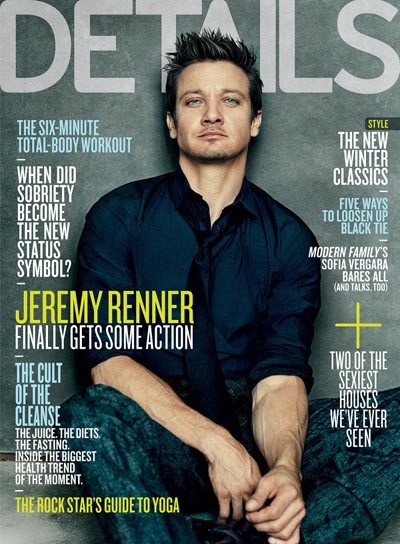 Jeremy Renner is featured on the cover of the December/January issue of DETAILS magazine, which hits newstands Nov. 29. He broke out in 2008's "The Hurt Locker" and stars in the upcoming films "Mission: Impossible - Ghost Protocol," "The Avengers" and "The Bourne Legacy."
He talked to DETAILS about working in construction, dating and being famous.
On how the hands-on physicality of rebuilding houses compares to filmmaking...
    
"Building a house is like producing a movie. There's no right way to do it, but a lot of wrong ways. You have to be flexible and creative. You have to move fast, be prepared—or it quickly becomes costly. These sound like life lessons. It certainly affected how I approach my life."

On fixing up old houses while he waited for roles that mattered to him earlier in his career...
    
"I wasn't super-happy being so poor. Eating on $10 a month—probably not very good for you. But I loved what I was doing. Not every actor gives their life to do this job. Some just do it as a job. Well, it's my life."

On dating...
    
"I never dated, because I couldn't afford to date. I didn't even have electricity. You try to put a positive spin on it, like, 'Hey, this is so sexy—look at all these candles!' But I loved what I was doing. The sacrifices I made in personal relationships had the biggest effect on my life. Even now, any woman would take a No. 2 seat to my job."

On his film roles...
    
"I'm blessed to have cool roles in these big movies. Because nothing against Transformers, but thank God I don't have to do a monologue to a robot. I don't know how Shia, God bless him, does that."

On unwanted attention and celebrity culture:
    
"I don't pay attention to that horseshit. Build 'em up to bring 'em down? I'm not going on that train, my son. I'm not going on that train. I'll walk. I'll take a bike. [Renner laughs.] I'd rather just not be popular."
Read the full interview and view behind the scenes footage HERE!