Jeremy Renner Almost Threw Up On Tom Cruise, Spoke To Matt Damon About 'The Bourne Legacy'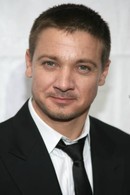 One of the most incredible stunts in the latest Mission: Impossible movie has Tom Cruise hanging from the side of the world's tallest building, the Burj Khalifa in Dubai. The rest of his team just looks out from the window, but even that was too much for costar Jeremy Renner.
"Once I hung out [the window], 30 seconds of near vomiting almost happened, but then that went away and Tom was laughing, he's hanging upside down," Renner said. "He's all red faced and he's like, 'Look at this view!' I'm like, 'What are you talking about?  I'm gonna vomit on you.'"
That gave Renner a taste of what he's going to be doing in The Bourne Legacy. Renner plays a new character, another spy brainwashed by the Treadstone program. Renner spoke with the original Jason Bourne, Matt Damon, about jumping into his world.
"He said, 'Just listen to your guys that know what they're doing.' He's worked with Dan Bradley who did all the action on all the Bourne movies.  He's actually our Second Unit Director on Mission so I was happy to know that he was part of this Bourne movie.  If you're doing action, you're working with Dan Bradley.  So he says, 'Just trust that guy.'  I'm like, 'Oh, yeah, perfect.  You don't have to tell me.  I've already worked with him.  He's awesome.' Because he's going to ask you to do some really terrifying things and you can just trust that it's all all right."
Mission: Impossible – Ghost Protocol opens December 16 exclusively in Imax, then Dec. 21 wide. The Bourne Legacy is shooting until February.