Jeremy Piven Almost Crashed Parents' Car One Christmas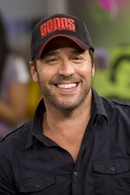 Entourage star Jeremy Piven has one Christmas memory he'll never forget after almost crashing his parents' car into a neighbor's home as a teen - because he had no idea how to drive.

The actor's mom and dad were heading out of town one holiday and asked a then-14-year-old Piven if he could get their vehicle safely home.

The young star jumped at the chance to get behind the wheel - despite never having driven before - and the ride back to his Chicago, Illinois home almost ended in disaster.

He says, "I remember one Christmas my parents were out of town, (and they said), 'We have to drive our car back, can you drive?' At 14, I said, 'Of course I can drive!' - I'd never driven - and I got behind the wheel of the station wagon and you know, Chicago was 47 degrees below zero, it's winter, it's nice and icy, so I'm teaching myself how to drive.

"I got really cocky and on the last turn, I kinda gunned it (the accelerator) and lost control, jumped the curb and skid in between two trees... and I see a couple, drinking tea in a living room in front of a Christmas tree, and I'm speeding towards them and I keep pumping at what I think is the brake, because I really don't know the difference, so I'm pumping the accelerator and it's going faster and faster and I'm thinking, 'This is the part where I smash into the living room and into these fine people's home into their tree', and I finally slammed on the brakes and skidded out before I hit their living room and they looked up and see this 14-year-old kid (behind the wheel)!"