Jenny McCarthy's Age-Defying Playboy Cover Revealed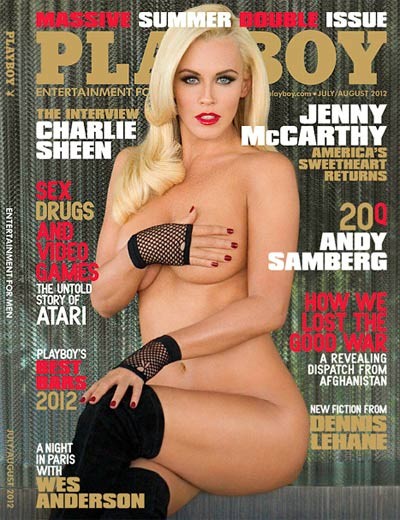 If you've got it - flaunt it! That's what Jenny McCarthy is ready to prove in the July/August issue of Playboy magazine.

The 39-year-old Love in the Wild host graces her sixth cover and appears nude in her seventh pictorial since taking it all off for the magazine for the first time nearly 20 years ago.

"Why should only 20 yr olds be considered sexy?" she Tweeted back in May. "Let's here (sic) it for the MILFs."

Jenny tells People magazine that she's proud of the new pictorial, titled "America's Sweetheart Returns."

"The pictures are really gorgeous and classy," she says. "They could be out of W magazine. They're really elegant. It's probably a lot more sophisticated than a lot of the stuff you'd see of people with their clothes on."

During a 2009 interview, McCarthy said she's like to pose for the magazine one more time before she turns 40 (November 1), and Playboy boss Hugh Hefner has granted that wish.

She said, "I would absolutely pose for Playboy. I would be so flattered if they asked me. It's probably not going to happen but I think I want to do it again."
Jenny was the feature centerfold in the October 1993 issue of the magazine and was named Playmate of the Year in 1994; her last pictorial came in January 2005. She is currently dating Chicago Bears linebacker Brian Urlacher; and has a 10-year-old son from her previous marriage to actor/director John Mallory Asher.
The new issue of Playboy - for those of you who read it just for the articles - is on newsstands everywhere Friday, June 29th.