Jenny McCarthy Won't Do 'Dancing With The Stars' Because 'They Never Get A-List Stars'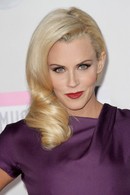 Actress and TV personality Jenny McCarthy has turned down the chance to appear on hit TV show Dancing With The Stars countless times because producers can't come up with worthwhile celebrities to waltz alongside her.

The former Playboy playmate, who once dated funnyman Jim Carrey, reveals she has been on the producers' wish list for years but she refuses to hit the ballroom for the contest until they can come up with a stellar group of stars for her to compete with.

She tells The Hollywood Reporter, "They ask me every year, and I just can't do it. I tell them why: 'You guys keep saying every year you're going to get A-list people and then it's the girl that was with George Clooney (Elisabetta Canalis).'"