Jenny McCarthy Found Love On Reality TV Set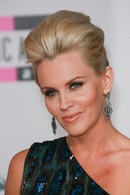 Model/actress Jenny McCarthy has found love while hosting a new matchmaking show in the Dominican Republic.

The sexy star refused to go into details about her latest love interest, but revealed she "had some fun" there during an interview on Access Hollywood Live on Wednesday morning - and hinted that she fell for a castmember.

She said, "You're on an island with all these contestants that are gorgeous."

McCarthy admits show producers feared she'd be smitten while hosting the reality TV show, Love in the Wild, and told her she'd have to wait until filming wrapped before getting romantic.

She explained, "They said, 'Jenny, you can't sleep with anybody...' so we didn't sleep together. We just made out."

The new show features 14 single men and women looking for love while competing in a series of contests.