Jennifer Westfeldt: 'I Never Thought I'd Be This Age And Not Have Kids'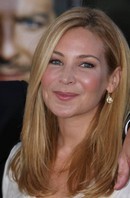 Jon Hamm's long-term partner Jennifer Westfeldt is surprised she's still childless at the age of 42, but insists she doesn't have a "compelling enough reason" to start a family yet.

The stars have been in a relationship for 15 years but they have no plans to marry or become parents, and Westfeldt is convinced she enjoys her life more because she isn't a mother.

She tells the New York Times, "I've thought about this a lot lately. I never thought I'd be this age and not have kids... I kept feeling like I'd wake up with absolute clarity, and I haven't. And we have a pretty great life together. The chance that we'll regret it doesn't seem like a compelling enough reason to do it."

"I may wake up tomorrow with that lightning bolt and I'll have to scramble to make it happen."