Jennifer Love Hewitt Shares The Steamy Details Of Her New Show & Talks About Her Two Favorite Body Parts In The April Maxim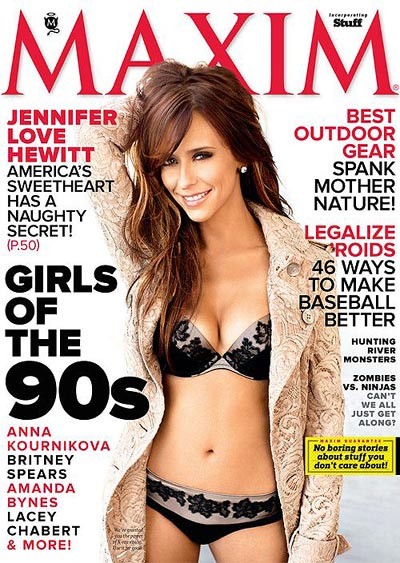 Jennifer Love Hewitt is getting Spring off to a good start with a sexy photoshoot for the April issue of Maxim magazine.

The actress, starring in new Lifetime series The Client List (based on the original Lifetime movie of the same name), promises lots of lingerie scenes for the new show, and she credits Maxim with knowing when she's looking her best.

"It's my scale of how good I look. Whenever you guys (Maxim) call and say it's time to be on your cover, I'm like, 'OK, I'm in good shape.' And when you don't call, I'm like, 'I guess I should hit the gym.'"

The actress recently Tweeted some new photos for a mystery photo shoot looking sexier than ever.

As for The Client List, J-Love promises that steamy scenes will be a mainstay of the new show.

"I've never played a character who is this overtly sexual. It's definitely going to be a departure from the normal stuff I do," she says. "Plus, we have a lot of really fun things in the series eye-candy-wise for our audience."

Maxim also found out what Jennifer's favorite body part it - and it's no surprise as it's probably the one that most people notice most about her.

"It's horrible to say, but I like my boobs. They've always served me well. They're good."
See more of Jennifer Love Hewitt's sexy Maxim photoshoot and read her full interview at Maxim.com!