Jennifer Love Hewitt Loves Her Body, Unless There's A Supermodel Nearby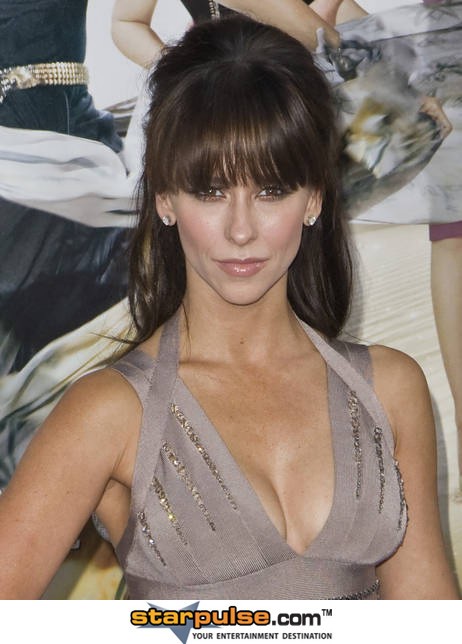 Jennifer Love Hewitt has had a rough couple of years. She's recently single, her show, 'The Ghost Whisperer' has seen better days, her new book, 'The Day I Shot Cupid: Hello My Name Is Jennifer Love Hewitt, I'm a Love-aholic' has been panned by critics, and she's also battled against the media's intense and often cruel obsession over her weight. And apparently, Love isn't immune to Hollywood's most rampant disease, Celebrities-Say-Stupid-Stuff-itis, so it looks like the good times are going to keep on coming for her. Yes, more common than Hit-Bottom-junctis, Love has contracted Celebrities-Say-Stupid-Stuff-itis and as a result, she finds herself with another huge target on her back after a regrettable interview with People Magazine for their "Hottest Bodies 2010".
In her interview with People Magazine, Love discusses her crusade to get woman to love their bodies and to focus on their health instead of the scale. She tells the magazine, "when I meet young girls, I'm always like, 'Just do me one favor,' love what you look like right now". The interview also covered how she put down the junk food in exchange for trips to the gym and her efforts to change how she viewed her body. "I just really worked on my mental part for a couple of weeks, got myself in a really good mindset," reports People Magazine.
Even though Love's interview isn't exactly original - everyone from Beyonce to Kim Kardashian have echoed similar sentiments - it's still great advice and a very healthy approach to getting in shape. Unfortunately for Love, while she was saying how much she loves herself and her body, she also picks out which celebrity bodies she would love to have. "I'd want to have Gisele Bundchen's body. Even though she's tall and skinny, she does have curves ... and I think that's hot," she said. "Halle Berry also is kind of amazing."  Wait, What?!?!  So in an interview about body acceptance and loving yourself, Love discusses how she would like to have the body of a supermodel and an A list star. Insert befuddled facial expression and long pause here. 
Those two statements seem to kind of contradictory and it makes it hard to fully embrace your body if it is being placed on a scale of comparison. It's like she's saying, love your body but the best body you can have is the body of a supermodel. To quote the title of a story the Huffington Post ran about Love's People magazine interview, "Jennifer Love Hewitt Loves Her Body, Wants a Different One."
If Jennifer Love Hewitt wants to join the fight against society's obsession with weight and encourage people to accept their bodies, then maybe she should rethink comparing her body to that of a supermodel or an A List Star. The idea of embracing one's uniqueness and individuality comes with the understanding that there's no room for measuring yourself against another person and there's no such thing as assigning values to physical features. Unless it's giving out generic dating advice, Love is a little too far out of your comfort zone. Next time she should just think - What would Wonder Woman say?