Jennifer Love Hewitt Busts Out Of Strapless Dress On 'The Ellen DeGeneres Show'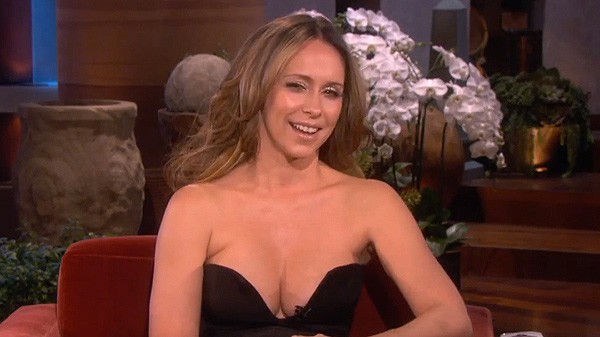 Jennifer Love Hewitt left little to the imagination when she made a guest appearance on Ellen DeGeneres's talk show on Thursday. The star wore a very low cut black dress that showed off her best assets.

The Client List star knew her outfit would end up being a hot topic as she giggled her way across the stage after being announced.

"Were you just sewing your dress?" Ellen joked. "Did you run out of time? Or what's happening?"

J-Love responded, "No, it's the design,but it's a little wowzer. Sorry about it. I didn't have a lot of time."

Go On star Matthew Perry, who was co-hosting the show for the day, channeled his Friends character Chandler Bing after Ellen said to him, "What a weird day you're here on..."

After a pause, he replied, "It might be my favorite day."

"...You're gonna have to handle most of this [interview]," he told Ellen after greeting their guest.

Hewitt mentioned how the Perry seemed to have difficulty making eye-contact, as well.

"Whenever this happens, I just want to tell you, I overcompensate," he explained. "I always look five feet above that..." he added.

Indeed, Matthew!

Jennifer also revealed that her grandmother watches her hit show "The Client List," which centers on a woman making ends meet while working at a massage parlor and doing a little extra for her male clients, and tends to mentally block out the images of her granddaughter in those situations.

"She calls me her 'little TV ho,'" Jennifer says.

Check out the full interview with Jennifer Love Hewitt below...