Jennifer Lopez's Manager Wishes She Didn't Date 'Obsessive Guys'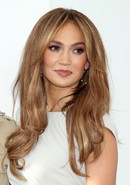 Jennifer Lopez's longtime manager is begging the singer to take more time to find the right partner to avoid dating "obsessive guys."

The On The Floor hit-maker began dating dancer Casper Smart soon after she split from husband Marc Anthony last summer.

However, Benny Medina, the man who helped launch Lopez's career, is convinced she ought to be enjoying the single life before diving into rebound romances.

In a candid chat with Vogue magazine, he explains, "The thing that I always sort of wished is that she would give herself time to just naturally meet someone, instead of having obsessive guys pursue her.

"The ease which that obsession becomes a relationship I think sometimes works against her ability to have a real meaningful relationship. And she never half does anything. When she commits to anything in her work, her life, or her relationships, she is in it."

Medina also reveals Lopez doesn't feel affected by the 18-year age difference with Smart.

He adds, "We talked about it and she was like, 'It's not even the age, Benny. It's actually that I just came out of a relationship where I felt like I was kind of not getting what I needed. And I'm open! So somebody who steps in right now and is actually touching me in a way - it's very fertile ground!"'

Lopez has been married to Ojani Noa, dancer Cris Judd, and Anthony, and previously dated rapper Sean 'Diddy' Combs and actor Ben Affleck.