Jennifer Lopez: The Highs And J. Lows
Jennifer Lopez began her post-babies comeback late last year, with "Louboutins," a dance-pop ode to shoes that didn't exactly set the world on its heels - or kick her music career back into high gear for that matter. Luckily, she has "The Back-up Plan," a romantic-comedy that hits theatres this Friday.
Lopez undoubtedly hopes that returning to the big screen in a genre where she's been successful in the past will re-establish her as a major movie star and reignite her star power.  After all, for the first half of the decade, two Jennifers pretty much dominated celebrity news headlines. Aniston was our "Friend" and Hollywood's version of the girl next door, while Lopez was the one that kept us guessing. She was the triple threat and the first artist to have a #1 album and #1 movie in the same week. She was also the frequently married, Versace dress-wearing fly girl with the insured derriere. Hit or miss, for better or worse, J.Lo or Jenny from the Block, she was always interesting. Take a look at some career highs and lows:
The Highs

"Selena" (Film) – Jennifer Lopez delivered a powerful breakthrough performance in this 1997 biopic about the late Tejano pop singer. Her portrayal of Selena earned Lopez a Golden Globe Nomination and established her as a leading lady on the big screen.
Out of Sight – (Film) She was charming in "The Wedding Planner" and some of us thoroughly enjoyed her in the fluffy Cinderella story, "Maid in Manhattan" but Lopez was undoubtedly at her best in this romantic thriller. Playing opposite George Clooney's irresistible criminal, Lopez was sexy, sharp, and totally kick*** as a US Marshal on his case. The pair has great chemistry together and their scenes are H-O-T.

J.Lo – (Album, nickname, global brand) Aside from setting the bar for celebrity nicknames, JLO became a global brand. The album/nickname solidified Lopez A-list status, allowing her to expand her empire with the launches of clothing lines and fragrances. The album itself topped the music charts (the same week that "The Wedding Planner" topped the box office) and gave us irresistible dance tracks like "I'm Real" and "Love Don't Cost a Thing." The irony that she was singing about a lack of materialism as La Vida Lopez became more and more excessive only made it more entertaining.
"I'm Glad" (Music Video) – For the 3rd single off her 2002 album This is Me…Then, Lopez channeled another Jennifer (Beals) in a music video homage to "Flashdance." We were glad to see Lopez recreating iconic scenes from the film in  and more than happy to reminisce about the 80's and the great off-the-shoulder sweatshirts of the era.
"Jenny from the Block" (Song, Music Video) – "Don't be fooled by the rocks that I got, I'm still, I'm still Jenny from the Block." Jenny's shout out to the Bronx (aka The Block) was a blast! Furthering her "I'm Real" story line and insisting she's still the same girl she always was, while frolicking on yachts in a music video co-starring real-life boyfriend Ben Affleck was classic J.Lo. Plus, with video the pop culture phenomenon known as  BENNIFER officially began.
Bennifer (Pop Culture Sensation, Nickname for Ben Affleck and Jennifer Lopez) – As in love as they were absurd (See "Jenny from the Block," above), J.Lo and Ben were the ultimate celebrity super-couple. Always gushing about how totally in love they were (This is Me…Then had a song called "Dear Ben"), they paved the way for all the celebrity couple uninames that followed. Real-life Hollywood romances (Brangelina and TomKat), on-screen match-ups (Gizzie from 'Grey's Anatomy', Puckleberry from 'Glee'), and weird reality show combos of both (Speidi) owe it all to the couple formerly known as Bennifer. (Even Affleck's wife, Jennifer Garner spent the earlier part of their relationship bearing with the moniker Bennifer 2.0!)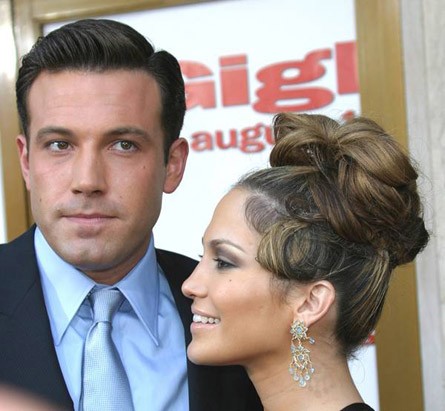 The (J) Lows
Bennifer (Punchline) – Despite their impact on celebrity nickname culture, the one-name phenomenon that was Bennifer proved to be box-office poison. Both Jen and Ben's film careers took major hits as the duo generated more and more media attention. By the time they appeared together on-screen, they were so overexposed no one cared to see their films, and relentlessly mocked them instead. (See Gigli, below)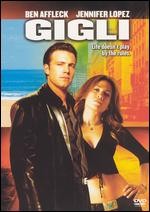 Gigli (Film, punchline) – The most obvious casualty of the Bennifer romance was this 2003 box office bomb that is still considered one of the worst movies ever made. Not since the Mariah Carey-vehicle, "Glitter" has a film been so ceremoniously lauded for its awfulness. A late-night punchline and six-time Razzie winner, "Gigli" was the ultimate high-profile disaster.
Bordertown (Film) -  Lopez reteamed with "Selena" writer/director, Gregory Nava for this 2006 drama about a journalist's investigation of mysterious murders in a Mexican bordertown. Unfortunately, the project failed to generate the kind of enthusiasm that their first collaboration had, and the film went straight-to-DVD.
Como Ama una Mujer (Album) – In 2007, Mrs. Marc Anthony became, according to Wikipedia, one of the few performers to debut in the top 10 of the Billboard 200 with a Spanish-language album. Nonetheless, the effort fell flat with fans that missed the glam/ghetto fabulous J.Lo.  
Love? (Album?) - The single "Louboutins" failed to generate excitement and she was released from her contract with Epic Records. Still, Lopez announced in February that she'd found a new label and the album was slated for a summer release. Given how many times this date's changed already, like the album title, we still have a big question mark.
After this weekend, we'll see if "The Back-Up Plan" can bring J.Lo back up to the top of the box office, and get the next phase of her film career started on a high note. If not, she can always come up with a new way to revolutionize the world of celebrity nicknames.
 Story by Elissa Farkas
Starpulse contributing writer