Jennifer Lopez & 'Teen Wolf' Star Tyler Posey Flirt At The Teen Choice Awards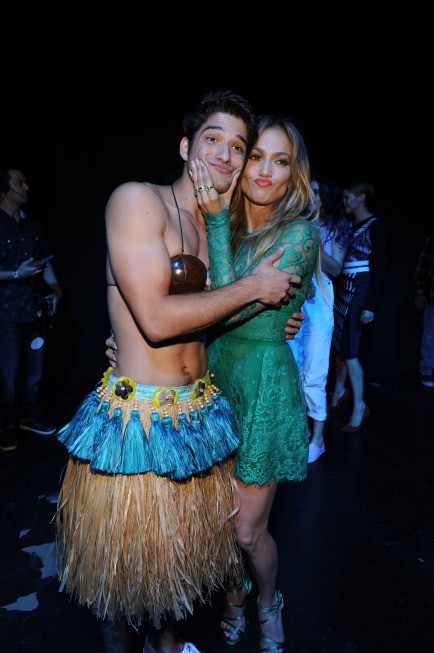 Jennifer Lopez reconnected with her former "Maid in Manhattan" co-star Tyler Posey at FOX's Teen Choice Awards on Sunday night.
The pair appeared on stage together, with the "Teen Wolf" star hugging Lopez and telling his former on-screen mom: "I know we haven't seen each other since Maid in Manhattan, which was forever ago. But I thought that maybe if you needed a backup dancer, I'd fit. What do you think?"
The 22-year-old actor then did a crazy dance around the stage, making Lopez respond: "If I say yes, will you stop?"
Lopez, 45, posed with Posey backstage, in which she grabs his cheeks (no, not those cheeks!). She wrote on  Instagram: "Aww look at Ty all grown up!! @i_love_harveys #teenchoiceawards."

Lopez has a penchant for younger men, so we can't help but wonder if she has her eyes on her former co-star. By they way, they met when he was 10 years old!  She stars in the upcoming film "The Boy Next Door" about a single mother whose affair with a teenage neighbor results in trouble when she tries to break up with him.