Jennifer Lopez Talks Men, Marriage & Scientology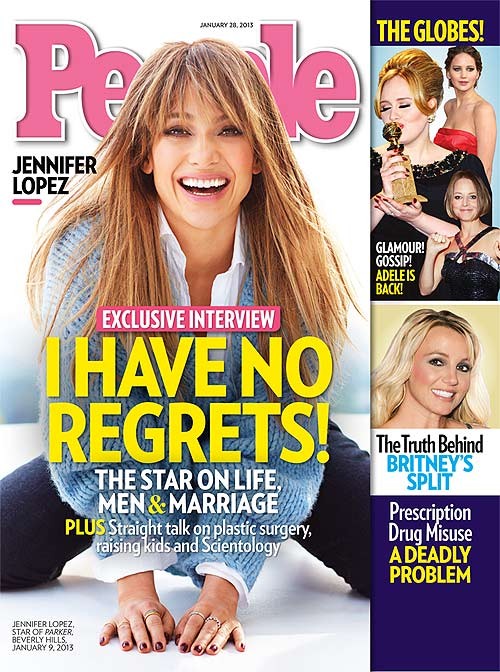 Jennifer Lopez sits down with PEOPLE in this week's issue for an exclusive interview and photo shoot in Beverly Hills where she opens up about what she's learned about love. The pop icon, 43, gets personal about her difficult split with Marc Anthony, from whom she separated in July 2011 after a seven-year marriage (their divorce is not yet final), raising her twins Max and Emme, making movies, the perils of dating a much younger man, and more. Below are highlights from Lopez's interview with PEOPLE's deputy managing editor, Peter Castro.

On Learning from Her Mistakes
"I'm not a young girl anymore who can throw caution to the wind," the megastar says after a day-long PEOPLE photo shoot.
"I'm making decisions for three…I'm Mama Bear," says Lopez. "I want to make sure everything's right. I have been hasty in the past. Super hasty."

On Questions from Emme & Max about the Split with Marc Anthony
Now that her children are almost 5 (on Feb. 22) and asking a lot questions, "it's brutal," says Lopez. "I actually wrote a song about it last night and recorded it." (She titled it "We Loved" and cried after laying down the vocals). "They ask hard things. They'll say, 'Didn't Daddy used to live here? When is he coming back to sleep here?' And I say, 'Yes he did, but he has his own home now.' I just try to make it okay for them because that's all I care about. I don't want to damage them in any way."

On the 18-year Age Difference between Her and Boyfriend Casper Smart
Smart laughs out loud when Jennifer is asked if she's worried he may stray in 10 years. "Yeah, all the time," she says. "I ask him, 'Why don't you go find a young girlfriend and get out of here? What do you want with me?' And you think, 'How long is this gonna be?' You think, 'Okay, in 10 years I'm going to be like this and you're going to be like that' and…men at that age are…I think all different things. The truth is we don't know what's going to happen. We're loving this moment right now. We make each other happy."

On Plastic Surgery:
"I've never had Botox or any of those things. [But] when I need to, maybe I will. I don't know how I'm gonna feel. I reserve the right to not know right now. And I don't judge anybody who does it."

On Scientology:
"I know a lot about it because of my dad [he's been a member for 25 years; Lopez is not a Scientologist]. My favorite thing about it is the communication and the breakdown of what communication is, because I feel that it's the basis for life."

On Romantic Love:
"Let me explain something that's different about me," she says. "I've come to a place where I'm very comfortable with myself and realize that I deserve something great. For a long time I didn't have that going on. Now I'm not gonna settle. I deserve something great. That's what I want, and that's what I'm gonna have."

PEOPLE's complete interview and photo shoot with Jennifer Lopez is featured in the new issue, on newsstands now.


*Also In This Week's 'People'*

The Truth Behind Britney's Split: "Britney Is Very Insecure And Has Had A Lot Of Trouble With Jealousy"
People Special Report: Prescription Drug Misuse – A Deadly Problem
Heroes Among Us – Roof Rescuers: "Besides Being A Mother, This Is The Most Rewarding Thing"
Nicki Minaj: "I Just Bailed Someone Out Of Jail"