Jennifer Lopez Talks May-December Romance With 'Adorable' Casper Smart In The April Vogue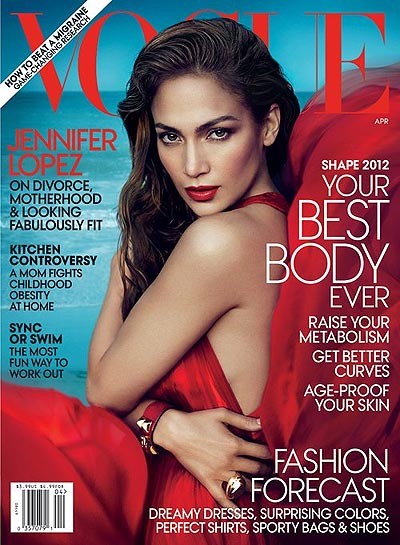 Jennifer Lopez is ravishing in red on the cover of the April issue of Vogue magazine, her first cover of the magazine since the January 2005 issue.

The 42-year-old singer discusses her manager, Benny Medina, and briefly touches on her new relationship with backup dancer Casper Smart as well as her situation with ex-Marc Anthony.

"He's adorable," she says of Smart, 18 years her junior. "But you already see that... He really is. He's a good egg. I don't want to talk about it too much. It's my private thing."

But it's her manager who she feels is really her 'soul mate'.

"I just think of [Medina] as a real, creative soul mate. He's been the most consistent man in my life besides my dad," she says.

"We love each other. People always ask about all the men I dated, and I am like, 'You know the Benny and Jennifer story? That's the real story here.'"

Speaking of that love and respect the two have for each other, Medina was also interviewed in the magazine and shared his thoughts about J. Lo's current relationship.

"She's not oblivious to her own reality right now, as in, Damn, I'm 42 with a 24-year-old. Why? We talked about it yesterday. She was just like, 'It's not even the age, Benny. It's actually that I just came out of a relationship where I felt like I was kind of not getting what I needed. And I'm open! So somebody who steps in right now and is actually touching me in a way — it's very fertile ground!'"

Medina also made a few comments in the interview about how he feels about Jennifer's current relationship, calling Casper Smart "obsessive" and saying that his type works "against her ability to have a real meaningful relationship", but the singer says she's not offended by his remarks and even called them 'misconstrued'.

As for things with ex-Anthony, she says going through the split is difficult, but doing it the right way for their kids is what's most important.

"We're still friends - and we're parents but it's going to take time. It's tough. But for the most part, I feel very proud of the way we're handling it. I really do. We are doing the best we can for the kids.


Check out Jennifer and Benny's full interviews in the April issue of Vogue magazine, on newsstands everywhere now and read more at Vogue.com!