Jennifer Lopez Sparks New Rumors By Wearing Huge Engagement Ring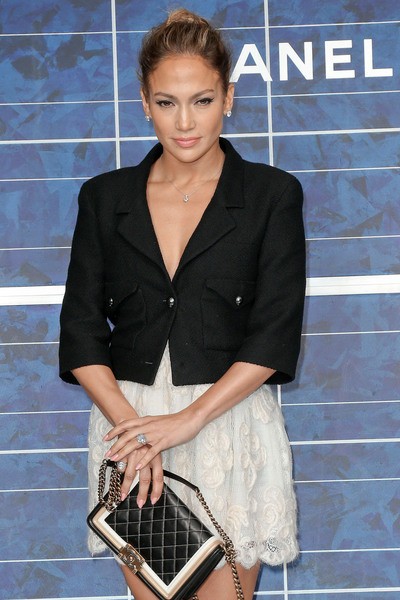 Jennifer Lopez was spotted with a HUGE rock on her left ring finger Tuesday when she took her daughter Emme to her first fashion show in Paris during the city's Fashion Week on Tuesday.

J. Lo's new hardware ocaused quite a stir, setting off rumors for the fourth time this year that she's gotten either engaged or married to boyfriend Casper Smart. In March fashion designer Roberto Cavalli's twitter page was hacked, and it featured a tweet that J. Lo had asked him to creat a new wedding dress for her. Then the always reputable Star magazine reported that the couple were secretly wed on a trip to Mexico, but the singer quickly dismissed the story.

A few months later, in June, the singer was spotted with another large ring on her wedding finger, but denied reports that she and Smart had taken things to the next level. She posted on her website, "Rumors!!! Don't be fooled by the rocks that I got. No engagement!"

The quote referenced a lyric from her 2002 hit, "Jenny From The Block."

Lopez, 42, and Smart, 25, began dating last November, just months after she and huband Marc Anthony filed for divorce.

As far as the couple's 18-year age difference goes - Lopez says, "I don't feel older and I don't feel like I look it, either, so I'm just acting the same way I have always acted."

We'll chalk this latest ring up to another false rumor.