Jennifer Lopez Shows Her Sexy Curves In A Blazing Hot Vogue Swimsuit Shoot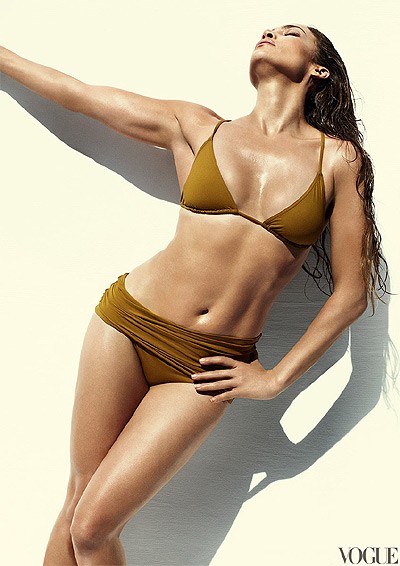 Jennifer Lopez is scorching hot at 42! The American Idol star shows off her fabulous curves in the June issue of Vogue, modeling several swimsuits for the fashion magazine.

How does she stay looking so great at her age? It's not easy.

"I don't want anybody thinking it's easy. It does take time and it's hard work," she told People magazine last year after being named 2011's "Most Beautiful" woman.

"HDTV widescreen is nobody's friend!"

The pop superstar has been busy lately - in addition to keeping her music career going with a major tour this summer, she's also starring in the upcoming What to Expect When You're Expecting, alongside Cameron Diaz and Brooklyn Decker; and she's wrapping up her second season as a judge on Idol.

Unfortunately for fans of the show it sounds as though she may not be returning for a third season.

Tuesday afternoon J. Lo visited the Ellen DeGeneres Show to promote WTEWYE and told the host that she's not sure if she'll be back.

"I don't know if I can go for a third year," she says. "I miss doing other things. It really does lock you down."

According to TMZ.com, the show's executive producer, Nigel Lythgoe, wants her back, but he understands her dilemma.

"It's a business. She has to weigh everything. I know she's gotten lots of offers to do movies and other things," he says.

Forbes magazine named her the world's most powerful celebrity on Wednesday.


Check out more sizzling pics of J. Lo in some hot swim fashions at Vogue.com, or pick up the June issue, on newsstands now.