Jennifer Lopez Re-Commits To World Cup Opening Ceremony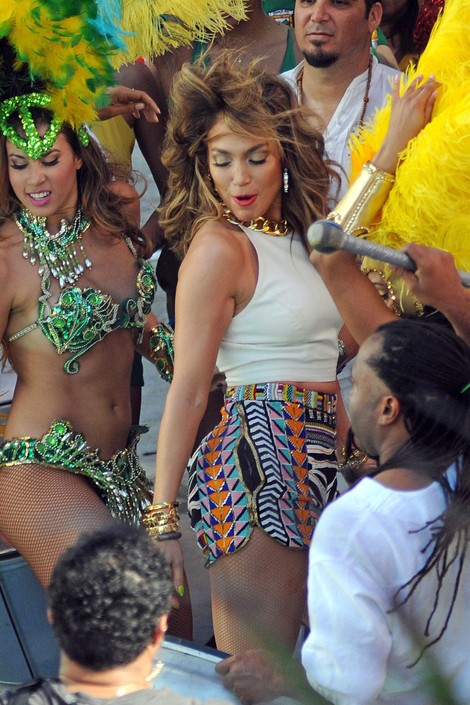 Two days after apparently dropping out of the opening ceremony of the 2014 World Cup in Brazil, Jennifer Lopez has re-committed to the performance.
A representative for the singer/actor told MailOnline, "Jennifer has always wanted to participate in the World Cup opening ceremonies. We have been trying to work out scheduling and logistics. Any statements to the contrary were premature. Jennifer would not want to disappoint her fans or fans of futbol. She will be there."
Lopez confirmed the news to the Associated Press, saying, "I'm coming. I leave tonight. We always were going. I think people get anxious, especially with me and my schedule when I'm like, 'Ah, OK, I can leave this day, that day, I don't know if we can make it.' People get nervous and I think it was a little bit premature to announce anything. But we are definitely going."
She later posted on Facebook, "I love #Brazil! I am so excited to join Pitbull & Claudia Leitte to celebrate #WorldCup2014 #WorldCupBrazil."
We may never know why FIFA believed Lopez wouldn't attend the Opening Ceremony, which will culminate in a live performance of the singer's and Pitbull's collaboration "We Are One." With billions watching the festivities around the world, even the most difficult scheduling conflicts can't outweigh the promotional value (her new album "A.K.A." drops June 17).
Rumor mills took the previous cancellation, as well as allegedly backing out of a charity show appearance, as proof that Lopez was suffering from her recent break up with Casper Smart.
However, multiple appearances since - including one on The Tonight Show Starring Jimmy Fallon in which she showed off her tight pants – seem to suggest that her congested schedule was to blame for the miscommunication.
Whether Lopez can help the song succeed is another matter entirely. We Are One is considered a downgrade from South Africa's anthem by Shakira, Waka Waka (above). Critics point to the cliche-ridden lyrics (in one verse Pitbull raps, "When the going gets tough / the tough get going / One love, one life, one world / One fight, whole world, one night, one place / Brazil, everybody put your flags /in the sky and do what you feel") as well as the fact producers hired Cuba-born Pitbull and Puerto Rico-born Lopez to perform an anthem for Brazil. Pitbull also dominates the track, leaving about thirty seconds for Lopez and Brazilian Claudia Leitte to sing short bridges.
Will the live version of We Are One be better with Lopez? Sure. However, it's unlikely the performance will outdo the 25 minute ceremony featuring thousands of gymnasts and martial artists.