Jennifer Lopez Promises To Keep Her Next Romance Private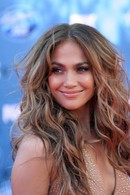 Jennifer Lopez has vowed to keep her next romance "out of the public eye" after a series of high-profile failed relationships.

The singer/actress split from her husband Marc Anthony earlier this year and is now rumored to be dating The Hangover star Bradley Cooper.

Lopez, who was previously engaged to actor Ben Affleck and dated rapper Sean 'Diddy' Combs, has now decided she will keep future partners away from the spotlight in order to maximize the chance of the relationship succeeding.

She tells Glamour magazine, "I think to give something a chance, to really get to know somebody, you want to do it out of the public eye. You know the media - they want to rush everything."
She adds, "I think I've finally learned the biggest lesson of all. You've got to love yourself first. You've got to be OK on your own before you can be OK with somebody else. You've got to value yourself and know that you're worth everything. And until you value yourself enough and love yourself enough to know that, you can't really have a healthy relationship."